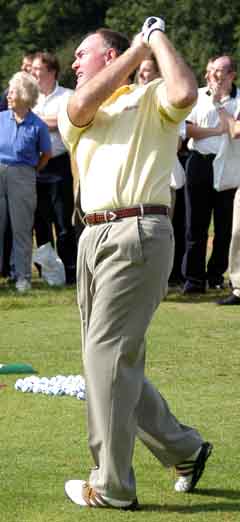 Ronan Rafferty – opening shot.




Genial Ronan Raffertywas a teenage prodigy in his native Northern Ireland but his golf swing, his temperament and his personality have stood the test of time, despite an injury that kept him out of the game for over two years.

Golfmagic caught up with the European tour pro and Sky commentator when he opened a new golf course at Sherfield Oaks– a 36-hole complex off the A33 at Sherfield on Loddon near Basingstoke.

During his opening remarks and in a follow-up interview he revealed much about his philosophy of golf and the memories with which he has entertained countless golfers.

What are your memories of your first Ryder Cup?
In the opening foursomes in 1989 I was paired to play with Bernhard Langer at The Belfry against Mark Calcavecchia and Ken Green. I thought, 'that's great. Bernhard's been there and done it. He'll settle my nerves.'

As we reached the first tee I recalled the time that Mark O'Meara had sliced his opening tee shot into the tented village and was thankful that as we were to be playing alternate shots and Bernhard had agreed to hit the first drive, it wouldn't happen to me.

There were hundreds crowded round the first tee and lining the fairway as far as you could see.

And Bernhard came over and asked how I was feeling. Trying to appear nonchalant, even though I was churning inside, I said I was okay.

"Good," he said, "I'm sh***ing myself. You hit it."

And he wasn't kidding. Suddenly it was all there right in front of me. Fortunately I managed to hit a toe end lob 200 yards into the left-hand fairway bunker but I was never so glad to get off a first tee in my life.

When did you start playing as a boy
When I was nine years old. I loved to play and by the time I was 12 I had a handicap of four and was scratch at the age of 14 playing at Warrenpoint in Northern Ireland. By the time I was 17 I had played for my country and am still the youngest to represent Great Britain and Ireland in the Walker Cup, which happened the same year.

What's your favourite course?
Royal County Down near Newcastle in Northern Ireland. I have always thought of it as having a kind of mystical olde world charm. I played it as a kid and I still play it today for fun and it still gives me goose bumps.

I'm also a big fan of Brora on the road to Wick in the highlands of Scotland.

Most embarrassing moment
Playing in the Irish Open as an amateur in 1980 at Portmarnock in front of a big crowd. I topped my drive off the first tee and it rolled only 100 yards.

Which player on the European Tour is destined for stardom?
Trevor Immelman from South Africa without a doubt. He's only 22 works hard, has a load of talent and hits the ball miles. He will win majors.

What do you think of Annika Sorenstam's sortie into the world of men's golf?
I thought it was a waste of time. If she had tried to play enough tournaments to try to get her card, then fine. But to play just one was, in my opinion, a waste of time.

Your biggest regret?
I injured my thumb in 1998 and had surgery a year later but effectively missed two seasons. When I came back all the technology had changed – the balls, the irons and the drivers. But I've discovered this new technology makes old people like me look good. Having said that I hit the ball on average 270 yards and I'm 187th in driving distance out of 235 players on Tour.

Have you any examples of how technology has changed since you started on Tour as the youngest pro in 1982, aged 18?
I was with Nick Doherty recently and he was telling me he'd never seen a persimmon driver. Seems strange but it's not really. I won the Volvo order of merit 14 years ago and Nick is 20 years old now and didn't play golf when he was six. He came straight into titanium-headed drivers, graphite and long-shafted drivers and things that hit the ball miles so he's never learned old time golf. He never saw what old technology was.

I suppose I can say that I never saw hickory shafts or aluminium heads either. I came in with decent grips and lightweight steel shafts.

A lot of guys when I started on the Tour used to go and see Harry Busson at Walton Heath who used to make hand-made heads out of persimmon.

Can you enlarge on how technology has changed?
Today, obviously, golf clubs are not hand made and if you walk into any of the manufacturers today and ask them about the characteristics of a golf club or a shaft, no matter what specifications you give them, you are going to hit the golf ball further.

The combination of club length, club weight and golf balls with dynamics that are better, makes you hit the golf ball 15 yards further. It's all within legal limits, so what's wrong with it?

I've played in Switzerland for 22 years and they absolutely love it because 1,000 people stand out there by the 7th green and watch pros hit the ball 340 yards – and they think it's fantastic. Paul Eales for instance, eagled it recently with a driver and a putt and he's got the slowest swing speed on Tour.

Spectators want to be entertained. They want to see stuff that they can't do as amateur golfers. And yet we don't use anything that the average golfer can't buy.

As an afficionado of golf courses – and particularly links courses – how does all this new technology equate with making so many courses obsolete.
Well they are really only obsolete for Tour pros and the top class amateurs. These courses are too hard for the average golfer. I held a golf day at Loch Lomond recently and even off the forward tees they found it very difficult.

No matter how good the technology is in your hands, you have to be able to swing the club properly and practice with proper facilities using proper golf balls.

It seems like practice ranges are a bit of a sore point.
In my opinion part of the problem is because most ranges make people hit off mats and they have to use rubbish golf balls. And if people continue to use facilities like that they will never be better players.

I'm a great advocate of these practice facilities that have academy courses played off different tees.

As well as competing on Tour you have a course design business, right?
I have a partnership with Martin Gillette, where we evaluate and re-design, mostly links courses. I love the history of the game and they are the ones that are of most interest to me. We've some work at Princes and in the north of Scotland.

I'm not critical of any one else's ideas because all golf courses have a purpose. I've played about 145 links and there's none left that I really want to go and play.

What's your favourite tip for amateurs?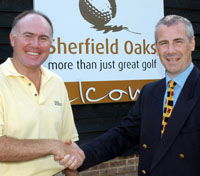 Ronan with American Golf (UK) Ltd's Mike Clewer.
Work on your chipping and imagine you are throwing the ball under arm to the target.
The length you have to take the arm back and through relates to the distance you are trying to hit the ball, with say, a 7-iron.
*For information on Sherfield Oaks Golf Club, its green fees, society rates or membership, contact 01256 884100. The club is the latest in the American Golf (UK) Ltd's management portfolio. It was designed by Simon Gidman, on 440 acres and benefits from rolling terrain, mature trees, bunkers and water features.