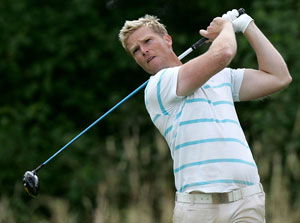 Guy Woodman - defending champion
  Guy Woodman, the East Berkshire golfer who famously appeared in the US TV reality show 'Big Break IV' in 2005, has signalled his determination to be 'hard to beat' as he prepares to defend the Powerade PGA Assistants' Championship in association with FootJoy, at The London Club in Kent next week (August 12-14).
He claimed the title in impeccable style with a four-shot triumph over 2007 champion Jonathan Lupton but the 32-year-old admits that the 54-hole tournament, which carries a top prize of £5,000 plus entry to next year's BMW PGA Championship at Wentworth, could be much harder this year given his inconsistent form this season.
"I'm a little bit rusty and I've not putted as well this year as I did last year," he said. "Some days they just drop in and others I hit some good shots but I'm unable to capitalise.
He adds: "I've got good memories from last year and hopefully I can replicate what I did. I plan to be tough to beat, though the main battle will be with myself."
As defending champion, Woodman automatically qualifies for the tournament, which will have a field of 120 assistant pros who have qualified through various PGA regions across Great Britain and Ireland.