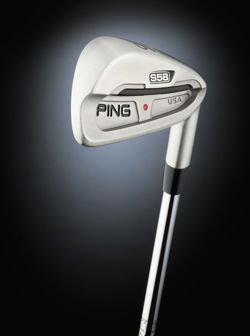 Ping S-58 iron
Just a couple of weeks after revealing its latest Rapture range of clubs, PING is introducing its S58 irons, which it says are more forgiving than the former S59 irons and becoming more appealing to its Tour players.
The company adds that it 'elevates the feel and performance of a traditional smaller-headed iron to offer even greater feel, playability and distance control. '
With its traditional blade looks, PING claims the club delivers the slightly higher ball flight, favoured by modern players. A new custom tuning port (CTP) and a progressive centre of gravity create a higher trajectory on the long irons but a more penetrating and controlled trajectory in the shorter ones.
A more solid feel on flushed shots and a wider sole also combine for an improved effect for the better player, together with a thin top line for a clean look at address. The S58's rubber grip has 703 'flame-shaped' patterns giving it a soft, textured feel.
The new S58 irons are available from 2-iron to pitching wedge in right and left-handed models with a choice of five steel shafts (CS regular, CS stiff, DGS stiff, DGX x-stiff and Z-Z65) and two graphite (TFC 1001 regular and TFC 1001 stiff). Cost per club is recommended at £90 (steel shaft) and £105 (graphite).