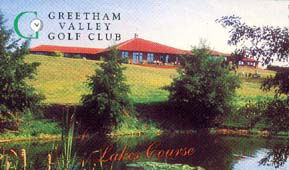 Greetham - members and pay-and-play.




There was a famous spoof television advertisement for Audi cars, that claimed: 'How can you be taken seriously as a golfer, if you're not a member?'

Ten years ago, over 60 per-cent of those who played were members of golf clubs. Now the authorities are taking the non-members very seriously indeed.

New research by Mintel, commissioned by the Professional Golfers Association reveals that while there are currently 1.34 million members of golf clubs in the UK and Ireland, four times as many who play once a month, do so on a 'pay and play' basis. However, more than half admitted they would consider joining a club in the future.

This, says the survey, suggests there could be over five million regular golfers who are not members of golf clubs and reflects the current interest in the game following Europe's high provile Ryder Cup victory over the US in September.

Researchers questioned 4,000 adults and revealed, that contrary to the view that most golfers were of mature years, the majority of regular, casual golfers were males aged 25 to 34. And half of those who admitted they would like to play more often, were aged 25-44.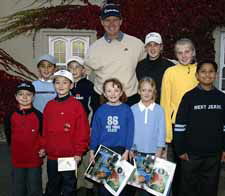 Ernie Els and the game's future.
PGA chief executive Sandy Jones said: "There are more than 3,000 golf clubs in England, Ireland, Scotland and Wales, with 1.34 million members, so it was certainly surprising to discover that regular players were four times higher than club members.
"And the high percentage of Internet users among golfers and readers of popular tabloids among the key age groups will help dispel one of the myths about golf being an elitist game. The 'Tiger' effect has significantly increased awareness of children and has helped to raise the profile of the game," he added.
"Golf is visibly successful as a global sport, where it has become a multi-billion pound industry, and the best players are international superstars. However, we recognised the dangers of potential complacency.
Among the surprising facts to emerge was the high percentage of women (33%) who played golf on holiday, three times more than played regularly at home.
In southern England, those who claimed they were interested in playing golf, was appreciably greater than those who actually did, confirming the relatively expensive green and membership fees in the home counties.
The report underlined the importance of municipal and pay-and-play courses and highlights opportunities for private and proprietary membership clubs to capitalise on casual green fee income, through discounted and twilight schemes.
Commented Mintel's Mark Brechin: "Data on the development of the game is an essential ingredient for course developers and equipment, clothing and footwear manufacturers, so being able to tap into the club professional network will greatly enhance the question areas and sample size in the future."