Scottish-born Sandy Morrison slept in his car on the night before he played the Black Course at Bethpage State Park in New York. It was the only way to get a tee time at the place which in two weeks time hosts the US Open.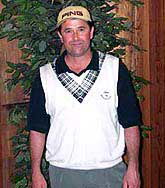 Sandy Morrison - qualifier.
That was last summer, just before the teaching professional submitted his entry for the Open, along with 8,467 other hopefuls.
But if Morrison, who works in a New York city golf shop, selling equipment and giving lessons to businessmen, continues to perform like he did at the US Open local qualifier recently at Pine Barrens Golf Club, the 40-year-old won't need to arrive at Bethpage in the early hours of the morning to get back on the course.
The USGA will give him a starting time along with Tiger Woods, defending champion Retief Goosen and 153 others who earn a coveted spot in this exclusive field of champions.
Morrison, who left Scotland in the 1980s to pursue a career in golf, carded a one-under-par 71 at Pine Barrens and was one of eight golfers to reach the next stage of qualifying to be held next Monday and Tuesday.
From those twelve 36-hole qualifiers will come the rest of the field for the 102nd Open, to be played fromJune 13-16 on a municipal course for the first time in the championship's history.
Morrison's hopeful of getting further but not confident, because he says his job in the Richard Metz Golf Shop in Madison Avenue rarely allows him time to play. Nearest he gets, apart from the occasional Sunday off, is to hit balls in a golf net while using video and computers to analyse and teach his students the golfswing.
"It's a pretty good way to learn, actually," says Morrison. "You take your mind off the ball and actually work on mechanics. All my students are guys with suits and they take off their jackets and hit balls in their street shoes."
He came to the shop last April after spending several years in Palm Springs, California, having competed for three years on mini-tours in Asia, South America and Southern California. He nearly qualified for the 1990 Open Championship, won by Nick Faldo at St Andrerws, missing by a single stroke. He has only missed one attempt at trying to qualify for the US Open since 1985, but this is the nearest he's got.
"It would be the biggest thrill imaginable," says Morrison. "It would be the highlight of my mediocre playing career."
Also through to the final qualifying stages is Buckinghamshire-born Englishman Simon Cooke, who turned pro after a sparkling college career at Virginia State University. He had a 70 at Pinewild in North Carolina.
Meanwhile, a decision is expected today (Wednesday) on whether Nick Faldo receives a special invitation to the US Open.
He narrowly failed to claim second place in the Volvo PGA Championship last Sunday to climb back into the world's top 50 and so obtain an exemption into the second major of the season and it left him debating whether to make the journey to Maryland for final qualifying.
It would be a real snub if the USGA turn him down, after a record 59 successive major events. He won six majors, more than anyone else, between 1987 and 1996 and was also involved in a play-off with Curtis Strange for the 1988 US Open. He missed another play-off by just one stroke two years later, when Hale Irwin took the title.
Irwin, has already received an invitation to compete at Bethpage. Faldo has not won a title since 1997, but has shown a return to form this season with six top 15 finishes.
As for Morrison, he can't wait to take the next step in his rollercoaster career.