The threats this week by Colin Montgomerie that he might, once and for all, turn his back on golf in the US because of the verbal abuse he suffers when he plays there, recall memories of the 1992 US Masters when the victim was Craig Parry.
Monty was heckled by a small beer-swilling group as he played eventual runner-up Scott McCarron in his first round defeat and vowed that he might never return to compete on the US Tour – apart from the majors.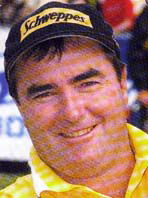 Craig Parry.
But his treatment pales in comparison with Parry's experience when the US crowds distracted and taunted him when he led Fred Couples in the chase for the treasured green jacket.
I was privileged to be covering the event at Augusta ten years ago and one of my tasks was to collate a daily diary with the feisty little Australian, who was attached to the magazine I edited as a contributing professional.
Parry was playing in the penultimate group in the first round, I followed him for 18 holes with his close friend, the then Australian cricket captain Allan Border, as he secured an opening 69 in fading light.
A 66 in the second round – completed on Saturday morning after a lightning storm - put him on top of the leaderboard with playing partner and defending champion Ian Woosnam.
Parry was in confident and determined mood when we chatted on Saturday evening about his chances of holding off playing partner Couples, over whom he held a one stroke lead with 18 holes to play.
"It will be tough playing with Freddie tomorrow, mate " he told me. "He's a good friend and relaxing to play with but I know the crowd will be rooting for him. I've just got to play my own game and hope the crowd don't get to me. I know they'll be partisan."
Fred Couples - 'gentleman'.
His words were prophetic, especially as he stretched his lead to three shots with a birdie at the second hole.
As he stood over a three-foot par putt on the slippery third green, a loud cough from somewhere in the gallery echoed through the pines and he stabbed his stroke wide.
It was the first sign that he'd have to beat more than America's most popular golfer if he were to emerge with the green jacket that evening.
A gutsy par at the par-3 sixth helped retain a slender one-shot lead and boosted his confidence as he strode between the ropes to the next tee.
But within seconds his world was to be shattered as a burly spectator stepped out and confronted him.
"Hey, why don't you let our guy win!" he shouted at Parry in a threatening southern drawl.
The Aussie was stunned and looked around for one of the Pinkerton security guards which are supposed to protect the players as they walk from green to tee.
Eventually Parry, nicknamed 'Popeye' because of his massive forearms on a 5ft 6 in frame, was able to brush the fan aside and head for his next tricky tee shot down the narrow 7th fairway.
But the damage was done. His concentration snapped.
Couples heard about the confrontation and immediately apologised for the spectator's behaviour, but Parry was distraught that at such a place as Augusta, he'd find a hostile gallery.
Shaken, Parry stumbled to bogey after bogey and eventually finished in a tie for 13th after a closing 78 – eight shots behind Couples.
In tears and too upset to talk after his round, he eventually revealed what happened early the following morning on the telephone from his hotel bed.
"It's not Freddie's fault. He's a gentleman," he told me. "But I was physically shocked that they could want their man to win so badly, that I was almost assaulted on the course."
Parry has made only two return visits to Augusta since that fateful April day – finishing 30th in 1994 and 25th in 2000 – but is still hoping to have a third chance to put the record straight, especially after his victory over Tiger Woods in the New Zealand Open earlier this year.
A high finish in this week's Genuity Championship at Doral, close to his Florida home, might just be enough to give him that opportunity.