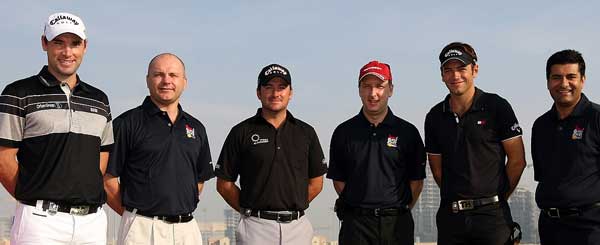 Master putters! From the left: Oliver Wilson, Jeff Castle, Graeme McDowell, Bryan Swift, Nick Dougherty and Steve Biring
  A German golfer with a handicap of 49 (imagine giving shots in the club matchplay to someone off 49!) came within inches of becoming an instant millionaire in the nail-biting climax to Odyssey's 'Putt for one million Euros' promotion staged at the beautiful Els Club in Dubai.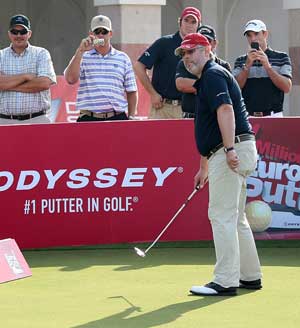 Jurgen ten Brink's bid to win 1million Euro, watched by Callaway's Oliver Wilson (back right) filming the attempt on his mobile phone.




Jürgen ten Brink who plays his golf at Münsterland Golf Club in Steinfurt, saw his 100-foot putt slide past the hole, a few inches to the right, after winning the putt-off against nine other qualifiers, three of whom were from England.

"It was one of the most nervous, yet exciting, times of my life. It's a shame the ball didn't go in but I've had an amazing time and met some of the best golfers in the world. I may not have holed the putt for a million euro, but I still feel like a winner."

Golfers from Sweden, France, Spain and Italy also took part after they correctly 'spotted the ball' in the online competition to winning their once-in-a-lifetime trip to Dubai to shoot for a million and meet their idols. Finalists from the UK were Bryan Swift from Bootle, Merseyside, Jeff Castle from Morden, Surrey and Steve Biring from Rickmansworth in Hertfordshire.

All were then flown out to Dubai as part of Callaway Golf's red carpet treatment. They also got the chance to meet Callaway Staff Professionals Ernie Els, Nick Dougherty, Alvaro Quiros, Oliver Wilson, Graeme McDowell and Alexander Noren.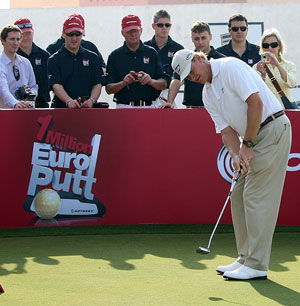 Els makes his unsuccessful attempt




Said Dougherty: "Even I would be nervous standing over a putt for 1million Euros and for an amateur golfer to get a feel for the pressure we have on the European Tour is an experience they will never forget. Just imagine if Jürgen holed out!"

Neil Howie, president of Callaway Golf Europe, Middle East and Africa, said: "The Odyssey promotion has been a resounding success. To give a golfer a chance to change their life with a single putt is an amazing experience. It's a shame we're not writing that cheque."

Tell us on the forum about the longest putt you have ever holed - both on the green and from off the green.

What's in your bag

What putter are you currently using? Don't forget there's a chance to win one of FIVE Pro Stance training aids we're giving away (worth £49.95 each) for the best equipment reviews submitted by the end of December.