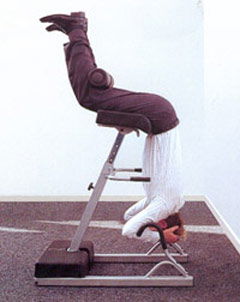 Competition subject
What makes me laugh wouldn't necessarily prompt so much as a titter from another golfer. So you can imagine that judging of the January Golfmagic caption competition was a tough, subjective call.
It attracted almost 250 entries for our caption for the inverted man on a frame and some, sadly, were about as funny as a front bench spokesman in the House of Lords. Others, however, had me laugh out loud in an empty office.
I was particularly impressed by the submissions from Kevin Vickers ('Malcolm demanded a reduced price on his new recliner as the hunt for the sky remote continued'), James Monet ('Mum, I might be a bit late, I've been stopped at customs') and the ever witty Gil Harding ('Irish free fall parachute training').
However, the prize of a Galvin Green Ace zip-up top goes to Tim Ellis, an architectural technician from St Neots, who's an eight-handicapper at John O'Gaunt Golf Club in Bedfordshire. He wrote: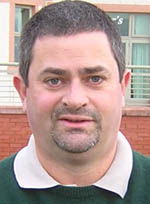 Tim Ellis




'Half an hour into the initiation ceremony and Jim was having second thoughts about accepting the captaincy of his golf club.'

The 44 year old has been playing golf for 17 years and is an avid follower of Golfmagic on the forum and revealed that the highlight of his golfing career was the two years he spent working for a company, which marketed the MasterCard Tour (fore-runner of the current Europro Tour).

"During that time I got to play with a number of professional golfers - the most famous of which would be Stephen Dodd."

In January we awarded a special prize to Chris Bennett from Dundee as the 50,000 member to join the golfmagic.com website – his prize a Cobra wedge.

The seven handicapper is a member at Downfield and is the current club singles matchplay champion. Last year he also partnered Craig Donaldson to victory in the Belhaven Scottish best club championship with a six under par 66.