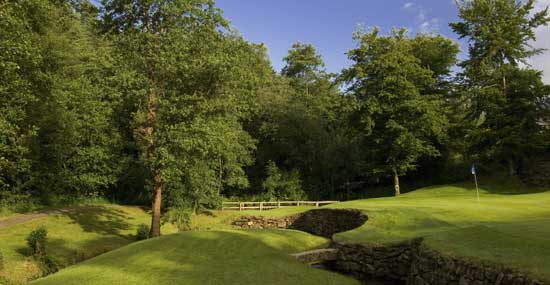 Refurbished 11th at St Mellion Jack Nicklaus Signature course
The English Open, which had been due to be played on the refurbished Jack Nicklaus Signature course at the St Mellion International Resort in August, will now return to The European Tour schedule in 2011.
Crown Golf, owners of the prestigious St Mellion International Resort in Cornwall, and The European Tour agreed to the postponement due to difficulties being experienced by third party developers engaged in building golf homes close to the site.
Stephen Lewis, chief executive of Crown Golf, explained: "We have a long term agreement with the European Tour to host the English Open but unfortunately, like many companies the credit crunch has created additional challenges for our partners engaged in developing accommodation at St Mellion.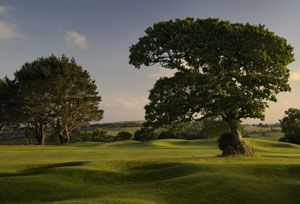 One of St Mellions famous oaks




"We are delighted however that Crown Golf's own £20 million rebuilding and refurbishing hotel and course renovation project is progressing well, and that the landmark hotel with 80 rooms will officially open in June 2009. However, construction of the balance of the residential development has been suspended, which means that the necessary tournament infrastructure will not be in place. In the current climate we believe a two-year postponement will ensure that all work is finished for 2011.

"This involves the building of golf homes essential to the accommodation requirements for The English Open. There are other matters that need to be resolved and we would not wish to have building work in progress when the tournament is being played and could not guarantee that to be the case for 2009/2010."

Keith Waters, director of international policy for the European Tour, said: "We appreciate and understand the challenge facing Crown Golf and in particular their genuine desire to ensure that the return of The English Open coincides with the venue being fully prepared to host a European Tour tournament. "

Crown Golf, the UK's largest golf course owner/operator, says St Mellion is its most prestigious venue among its 34 golf clubs. The 2011 English Open will be played on the refurbished Jack Nicklaus Signature course, which will re-open later this year. The first Nicklaus course in the UK was opened at St Mellion in 1988.