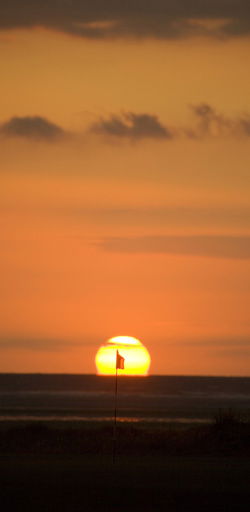 Twilight over Hoylake - one of a handful of courses unlikely to need a membership drive
  I wonder how many of us will discover, when the snow clears and the subsequent floods subside, how many golf clubs will have failed to survive not only the weather but the recession that is hitting all our pockets.
I was shocked and appalled to find just how many golf courses are currently up for sale by national estate agents like Strutt and Parker and Humberts - trapped by increased costs, falling membership and in some cases an inability promote themselves out of trouble.
When many of us took up the game and wanted to join a golf club, if they liked the cut of our jib and our social status met their demanding standards, we were instructed to turn up for interview with an appropriate 'seconder' for our application. Some of us even had to prove our golfing ability and etiquette in a round with a committee member.
Waiting lists, today? Poppycock! Unless, that is, you're attempting to join one of the courses on the Open Rota or those screened by the woodland on the leafy Berkshire/Surrey border.
Judging by the 'memberships available' notices on so many course entrances, it's now a case of "You want to join? What time can you get here?"
Previously, a slow but steady influx of new members stepped into 'dead man's golf shoes' or replaced others who left the area or retired, negated the need for clubs to actively seek members.
But this is the 21st century and times have changed - although one industry insider told me this week that private golf clubs need to promote themselves much better if they are to survive the economic downturn.
"Being frank it is tough and the weather is playing a part with no one contemplating playing golf [in the current conditions] . In our business we've just got to try harder and harder to get less and less.
  "Golf needs to promote itself better to the public. Whatever anyone says it still has that 'members only' attitude. The R and A must surely have pots of money that could be used to promote the sport but the clubs also have to help themselves," he added.
" I think they're incapable of this, as most are run by committees but in the main they are self-serving and protectionist and want millionaires golf for dole money.
"Clubs should trust their manager/secretary to market the business rather than have endless meetings, then block initiatives. I am convinced we will have dozens of clubs going to the wall, " said my source.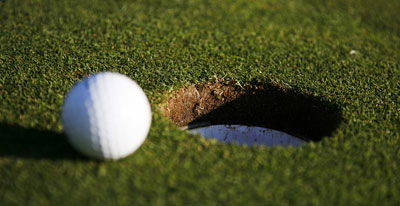 golf course on the edge of a black hole




"On line tee-time sellers offer a great service but only a small number of clubs take it up, even though they are selling product that would otherwise go unsold. It should be a win-win situation, especially as the club also takes money over the bar and on food. The golf pro must benefit.  

"I honestly despair at the ambivalence clubs show to visitors, even though they are possible future members and customers. I play regularly in a society which takes 30-40 players to a course, yet not once in 27 years has a secretary come down to see the group, maybe go through the local rules and wish everyone well. And perhaps more importantly, they never ask afterwards if everything was okay for the group."

With unemployment nationwide reportedly rising to two million, I have also heard of massive redundancies among greenkeepers, while some professionals have been released without a retainer and are having to wind down their stock. As for paid administrators, we also hear that their salaries are being shared in some areas by two or three local clubs, while volunteers are being encouraged to take on some of their demanding roles.

So what will you find when the snow melts and the river levels drop? Let us know on the forum how your local course is handling the 'credit crunch' and whether you have any ideas for marketing the game.