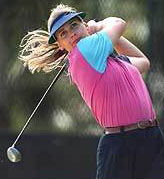 Mianne Baggar
Golfers who have undergone a sex change operation can now compete on the Ladies' European Tour.
The Board and Players Council of The Robe di Kappa –sponsored Tour has agreed to change its regulations in line with an International Olympic Committee edict to allow 'individuals who have undergone sex reassignment from male to female' the opportunity to be eligible for membership.
The move follows an approach by 37-year-old Dane Mianne Baggar to attend the Tour's qualifying school, after competing earlier this year in the AAMI Women's Australian Open at Concord Golf Club in Sydney under regulations governed by Women's Golf Australia, which permits the inclusion of transexual women golfers.
She had earlier become the first transexual woman to win South Australian State Amateur Championship in 1999 by beating Lyn McGough 5&4.
LET regulations, which previously stated that applicants for membership must have been 'female at birth', have been changed following the IOC's decision in Athens.
The changes allow Baggar the opportunity to play in LET events and to attend the Qualifying School for the 2005 season, to be played at Riva Dei Tessali Hotel & Golf Resort, near Bari in Italy from October 26 to November 3.