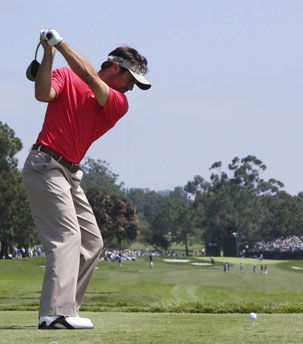 Trevor Immelman - 'frustrated by injury'
  Trevor Immelman, the 2008 US Masters champion, has struggled to re-ignite the form that saw him lifted to No.15 in the world. he says he's experiencing 'a frustrating season' hampered by a nagging wrist injury that has seriously curtailed his tournament appearances.
Hitting his driver, then consequently too many shots out of the rough hasn't helped. Immelman is disappointed he hasn't been able to build on his major championship success, when he was a wire-to-wire winner and came home three strokes clear of Tiger Woods.
His highest finish this year is tied 19th and he has dropped to 66th in the world reflected in failing to post a top-10 finish in any of his last 22 PGA Tour events.< P>Immelman turns 30 in December and admits: "I've been struggling since February and the season as a whole has been very frustrating.
"I'm hoping I'm through the worst of it now. I thought it was improving in the Bridgestone at Firestone (in early August) and was fine for a couple of days. But then I struggled through the weekend."
He says: "The pain seems to start causing problems when I'm hitting drivers and playing out of the rough. It's also preventing me from practising too much."
Tell us on the forum: Whom among players you've followed in the US or Europe has surprisingly fallen out of contention on a regular basis in the last year? Players whom you might have thought would kick on to become top challengers? Whatever happened to Michael Campbell, Kenneth Ferrie and Adam Scott?