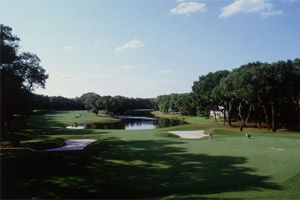 The Golf Club Of Amelia Island
An American teaching pro could face suspension from tournaments if found guilty of deliberately improving the lie of his ball while playing in a competition in Florida.
David Bartoe was disqualified following an incident on the sixth hole during the final round of the Amelia Invitational on Amelia Island.
He was spotted 'kicking his ball to obtain a better position' by two other competing professionals who were standing on the seventh tee.
Bartoe, a contract instructor at the World Golf Hall of Fame PGA Tour Academy, was then confronted by the two witnesses – Mark Spencer and Richie Bryant – when he arrived on the sixth green.
Bartoe had originally hit his ball behind a tree and, according to The St. Augustine's Record, Spencer explained what happened: "We were on the seventh tee waiting to hit.
"He (Bartoe) got out of his cart, walked to the ball, and nonchalantly kicked it about 10 feet to the left, where the tree wasn't in the way as much."
Bartoe, who told the two witnesses he had kicked his ball accidentally, then went back to the original spot behind the tree and played the hole again.
However, according to the tournament's rules official Skip Small who was asked to attend the seventh tee, Bartoe should have replaced the ball as close as possible to the original position, immediately after the incident happened, before taking a one-stroke penalty (rule 18-2).
For not following this procedure he was given a two-shot penalty and then slapped with a further two-stroke penalty for moving the ball a second time when he returned to play the hole again – after speaking to the witnesses.
Small reported the incident to tournament director Robert Dugger who subsequently disqualified Bartoe under rules 1-2 and 33-7 – whereby an official is given the discretion to disqualify a player if the offence is deemed to be serious enough.
A report has been sent to the regional tournament organisers who have the power to suspend Bartoe from competitions, although he could later appeal to the club pros' national body the PGA of America.
The newspaper also reported that neither of Bartoe's playing partners had seen the ball being kicked as they were on the other side of the fairway at the time.
Although this 'cheating incident' happened at a far lower level than either F1's 'crashgate' and rugby union's 'bloodgate' scandals, it still tarnishes golf's traditional image of being a sport where the values of decency and fair play are universally accepted.
Note: Rule 18-2 prohibits a player from making contact with a ball with anything other than a club.