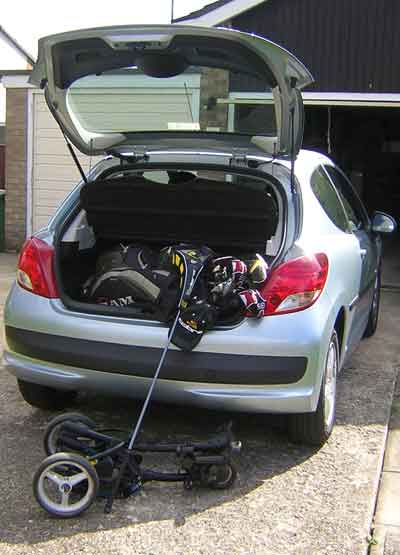 Never leave your clubs exposed or unattended
  Picture the scene...you've just enjoyed a great round of golf with your mates at one of Scotland's finest courses, locked your clubs away in the car and before travelling home, nipped into the clubhouse for a bite to eat.
You emerge to discover the car's still there but the clubs have been stolen. To add insult to injury when you make enquiries to claim the loss under your insurance policy, you discover you're not covered.
One Golfmagic member wrote to me this week to describe this very scenario and offers his bitter experience as a warning to other golfers to ensure they are properly covered and not to rely on claiming it under their household insurance as many do.
He wrote:
"With my son-in-law and a work colleague we drove to St Andrews play one of its famous courses but the trip was completely overshadowed when the vehicle in which we'd been travelling was broken into and our golf equipment stolen while we enjoyed refreshments in the clubhouse.
"All of us had different cover on our insurance policies which produced varying results when we contacted our insurance companies.  Two of us had  claims rejected for not having the necessary cover.
"The vehicle in which our clubs were stored is significant in our case in that it was a company-owned Ford Ranger pick-up with a double cab as opposed to a boot.
"My colleague, who was insured with Nationwide (with golf insurance cover) had clothing, a watch, shoes, a Callaway FT-iQ driver and Galvin Green waterproofs stolen which had been lying in the locked vehicle. Nationwide Insurance would not pay out as the items were 'on display and should have been in the boot' even though it did not have one! He could take the issue higher but this would involve his company - something he's reluctant to pursue.
"My son-in-law lost a full set Yonex VM Irons, Taylormade R7 425 driver, Yonex Rescue, wedge and putter as well as waterproofs and a Benross cart bag. He had home insurance with the AA Insurance, which he thought would be sufficient but was told golf cover would be an additional extra. He accepts the decision and fully expected the outcome of his attempt to claim.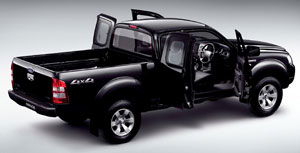 Ford Ranger Pick-up




"As for me, I lost a set of Callaway X20 irons, Callaway FT9 driver, and FT 3- and 5-wood, FT rescue club, X-wedge and Odyssey Sabretooth putter, together with a Powakaddy electric trolley, Callaway stand bag and Galvin Green waterproofs. My insurance with Pearl was paid out in full as a result of having earlier added golf club cover to my policy as an extra.

"We had the choice one of three vehicles to use for our trip and irrespective of which one we finally decided on, a fair amount of equipment would have been visible to any potential thief.

"However, our experience should be a warning to other golfers to make sure you know what cover is included in your policies. Read the small print and ensure your golf equipment is named in the policy as extra cover. Don't rely on it being covered in your normal home contents policy.

"As well of having the theft of clubs to contend with, we now to replace the stolen items. Our season is now over as a result of these despicable thieves and not having the cover we thought we might have.
Golfmagic asked Paul Wilson, director of Golf Care, one of the leading golf insurers, for his reaction. He told us:

"The message to golfers is that if you pay for top notch golf equipment it's worth spending a little more for adequate specialist golf insurance.

"Over 30 per-cent of the claims Golf Care has processed in the past year have been for golf equipment thefts ranging from vehicle break-ins to forced lockers in the clubhouse. Golfers have become a favourite target for thieves as they know golfers will spend a lot of money on high spec equipment'.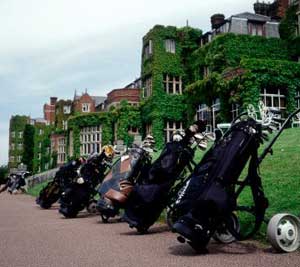 Dangerous practice: Trolleys left outside the clubhouse




"A full set of clubs, bag and trolley is easily worth £1500 but it can be much higher and yet we find many golfers fail to have the appropriate insurance cover to protect them. For as little as £22.49 a year, golfers can insure themselves against injury and damage to property, theft, damage to and loss of their clubs."

Paul explained that many golfers assume they are covered for loss by their household policies and though some policies will allow you to specify golf equipment as an 'add-on', the extra premium needs to be paid at a higher premium than specialist golf insurance and says golfers won't get the level of cover offered by a Golf Care specialist golf policy.

"Golf Care offers a range of cover to suit the budgets and needs of all golfers, including loss, theft, damage, personal liability even dental treatment and hole-in-one cover to pay for a subsequent bar bill, "says Paul, who is preprared to offer Golfmagic members a special package rate from £22.49 a year.

For further information visit: www.golfcare.co.uk/magic or call Golf Care free on: 0800 158 5515 (and quote Golfmagic.com).
Simon Seward, commercial director of Golfplan commented: "There are two big take-outs from this unfortunate episode – a household policy will not match the cover of a specialist golf insurance policy and secondly, it's vital that you check the small print of any policy you take out as you may find exclusions you weren't aware of. Don't just check the price of the cover, check what you get for your money.

"Around 68% of thefts from vehicles take place at night, so it's vital you get a policy that covers you for 24 hour theft from a vehicle. In terms of equipment replacement, make sure you get a policy that covers you for 'new for old' replacement and check the smallprint for exclusions that may limit this cover to clubs up to two or three years old or you could have a shock if you have to make a claim.

"It's also worth remembering the duty of care a golfer has to others while playing on a course so public liability cover should be an essential for all golfers," he adds.

Golfplan's comprehensive cover includes 24-hour theft from car (provided the equipment is concealed in a locked boot) and 'new for old' replacement of equipment regardless of age. All equipment is replaced via Golfplan's nationwide network of more than 2,000 PGA Golf Professionals. Other benefits include public liability insurance, personal accident, 120 days overseas cover, hole-in-one and reimbursement of golf club membership fees if an individual can't play due to illness or an accident on or off the course.

For further information visit www.golfplan.co.uk or call Freephone 0800 591834.Tell us on the forum your experience of claims you've made for loss, theft or damage to golf equipment.