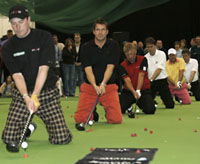 Trick Shot Championship launch at London golf Show
American Ben Witter is the latest master craftsman to sign up for the inaugural
World Golf Trickshot Championship
, which takes place next week at Celtic Manor next Monday (June 6).
He completes a list of 12 trick shot artists and explains that his career was born in a hospital.
"When I was aged 22, I was diagnosed with a rare type of cancer called Adenoid Cystic Carcinoma; the treatment involved extensive surgery and radiation treatment," he explains.
"During my stay in the hospital, I was unable to spend any time in the sun due to the type of radiation treatment I was receiving, so I was stuck on the ward and it almost sent me crazy. Consequently, I had a whole lot of free time.




Ben Witter




"Rather than just lying in bed, I picked up a sand wedge and golf ball and began bouncing it up and down in my room and in the corridors.

"Doctors and nurses watched me do my little 'trick shot show' and as time went on I became pretty good at it. And one day my doctor invited me to play in a pro-am," Ben recalls.

"I began doing my little 'bouncing show' and before I knew almost everyone was gathered around on the range. The more people watched, the better my routine became and my trick shot show was born." He joins an intriguing list of competitors which includes Severiano Ballesteros' brother Vicente, Swede Peter Johncke, and a plethora of UK-based tricksters including Jeremy Dale, David Edwards and Geoff Swain.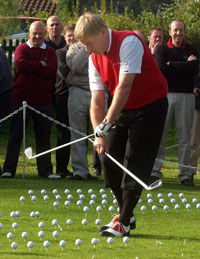 David Edward (pic courtesy Scunthorpe Telegraph)




For one day only, a dozen of the most entertaining and charismatic professional golfers in the world are gathered together to trick their way to the title of World Golf Trickshot champion.

Among the tricks are hitting from 6-9ft-high tees; while sitting down; while using a right-handed club left-handed; with a hosepipe or a mallet; from within a balloon or while serving a ball, tennis-style.

And not only are these guys expert golfers, spending hours perfecting their skills, they're witty raconteurs and tgreat entertainers.

Their shows have been seen at many corporate and professional tour events across the world, but never before have they all been gathered together in one place.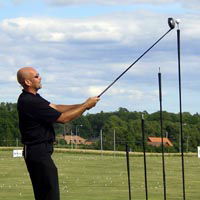 Johncke reaches for the sky!




Competitors have the chance to perform a short set of just over 10 minutes before the judges make their selection of three finalists based on technical merit, entertainment value and presentation style.

The resulting three-way final gives the competitors a last opportunity to show off their dazzling tricks before a winner is selected. With £20,000 at stake this is serious stuff, guaranteeing some tense excitement as the competition draws to a close.

The judging panel, is headed by Sky Sports commentator Ewen Murray, himself a former world junior golf champion. He's joined by two ex Tour winners, Mark Roe and fellow comentator Robert Lee.

Paul Smith, managing director of the World Golf Trickshot Championship, said: "These guys try to relate to what the average golfer does - then hit shots that look entirely improbable. They are a little bit special. It's all about entertainment and if non-golfers enjoy what the guys do in the trick shot show then it might encourage newcomers to take up the sport."