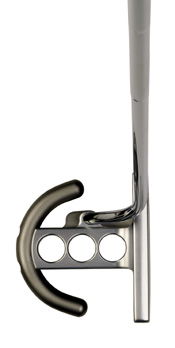 How the futura looks.
Price: £210
At first glance it looks like an exotic piece of plumbing or the love child from a scaffolder and Lieutenant Uhura from the StarTrek's 'Starship Enterprise.'
No wonder it was originally banned by the R&A, despite the green light being given by the USGA, which rules on such things in the United States.
The Futura putter has apparently been under development for five years, the futuristic brainwave of top putter-maker Scotty Cameron – using a high-tech concept which Titleist claims 'expands the boundaries of the Cameron name in both performance as well as appearance.'
And I have to say I gulped when I first saw pictures of it – and almost choked when I finally got my hands on one this week for the first time.
According to the marketing blurb 'It's multi-material, multi-weight construction, uses a combination of aluminium and steel, producing a putter with a high moment of inertia for very balanced and stable feel during the stroke.'
Let me translate: It's made of two metals – with the feel and sound off the face of lightweight aluminium supported by a horseshoe of steel behind its head.
This 'deep back weight' (accounting for three quarters of the weight of the head), combined with the steel shaft inserted at the centre of gravity, claims to promote a smooth, pendulum stroke.
And much like the shallow pendulum action of the Odyssey White Hot 2-ball, which encourages an upswing, the Futura delivers a nice roll.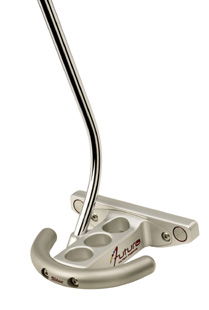 Soft feel off satin finish.
And the feel is so soft from the satin finish aluminium face that, with your eyes closed, it would be hard to tell if you were using a Pinnacle or one of the original Titleist Balata balls.
Both on the practice putting green and during the course of the round, using both a Callaway CB 1 and Titleist Pro V1 balls, I had to make myself strike the ball a little more aggressively than normal.
But a nice 15-foot birdie putt on 17 when the ball tracked nicely into the back of the cup convinced me that this club will definitely be given a chance in competition. It would certainly be guaranteed to help break the ice on a tense first green!
At over £200 it's a lot to pay for a club that Phil Mickelson has been promoting on the US Tour but, as well as its distinctive scarlet grip, it comes with the flashiest headcover you'll ever see.
Almost as big as a baseball mit it takes a bit of practice to position the club properly inside, using two velcro flaps either side of the shaft and comes complete with a 21st century pitchmark repairer.
Verdict

I've always advocated that amateur golfers should spend more on a putter that's responsible for 45 per-cent of shots played in a round, than a driver that can cost up to £400. And in the right hands in the right conditions, this putter might be worth its money. But it's a fast-green weapon. I can't see it earning its keep on temporary greens in winter.
Golfmagic rating: 8/10
For your nearest stockist call 01480 301114.