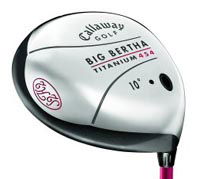 Callaway's biggest conforming driver
Price: £199It's a club which made its debut this week at the PGA Merchandise Show in Florida after making news in the hands of David Mobley, the new RE/Max World long drive champion.
Reputed to be the 'hottest, longest, largest' driver Callaway has ever made, the club will still conform to R&A and USGA regulations, even after the 2007 watershed.
I can't say it's the longest driver I've ever hit but that could be much to do with temperatures just above freezing and a bitterly cold January wind across my local sodden course. (Don't accuse me of being a fair-weather golfer!).
I'd compare it favourably with the latest r5 (type D) from TaylorMade for looks, feel and forgiveness, though at a recommended price of £199 this baby is significantly cheaper.
Mobley put the BBti 454 into play with a crushing, winning drive of some 377 yards. My best was at least 100 yards short of that with a slightly helping cross wind but gave me that tingling feeling of a ball struck purely with little effort.
I liked the way the clubhead sat at address, inspiring confidence with its bulbous head, pierced into the heel by the distinctive, scarlet RCH 65w regular graphite shaft, using Callaway's distinctive Tru-Bore technology. There's no doubt this is the secret to its forgiving feel and control.
My particular sample had 11-degrees of loft, but such was the height it delivered I could have probably done with a nine or even eight-degree option. Some may prefer the 10 or 13-degree or even the 15-degree high trajectory model.
As readers of my reviews will know, I like to be able to make up any lost ground on my playing colleagues off the tee by being able to strike my driver off the deck. And the BB ti 454 proved up to the task. The low, fading flight felt under control at all times.
The Big Bertha Titanium 454 driver is also available in left-handed models (nine, 10, and 11-degree lofts). There's also firm and strong flexes as well as a Gems 55w ladies flex.
Verdict

Despite now aiming some of its products in the middle price range of the equipment market, Callaway hasn't held back with its technology and this club is certain to prove a big hit with those considering a new purchase on the eve of the 2005 season.
Golfmagic rating: 9/10