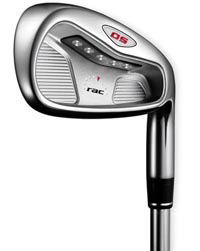 New TaylorMade rac OS iron
Price: £499 (steel) £599 (graphite)
In June last year, I got my hands on TaylorMade's rac CGB irons and despite their £1200 price tag, declared them probably the best TaylorMade clubs I've tried.
On the strength of my review a handful of Golfmagic followers went straight out and bought a set and weren't disappointed.
These new oversize models (with revolutionary steel T-Step Ultralite shafts, each weighing less than 90 grammes) are almost as good at half the price.
Perhaps don't fly quite as high as their predecessors but that's no bad thing in a biting January wind blasting in from the Arctic circle on to my exposed home course in Rutland.
They were conditions in which you needed feel and control from your irons; to be able to punch them under the wind and to get the ball to stick on greens like velcro.
As I'd expected, I made heavy contact early on in the round but after a couple of holes adapted my swing into a more upright plane to make the most of the rac technology, which enabled engineers to channel vibration and deliver that terrific feel at impact.
Though described as oversize, the head looks compact at address and not at all as overwhelmingly large as I had expected. I prefer my top line on the thinner side of chunky and with the non-reflective strip on top, these clubs look handsome and powerful.
The manufacturer's blurb declares: "Generous offset makes it easy to square the clubface to the ball at impact, promoting an extremely straight, accurate trajectory and helping to eliminate shots to the right (for right-handed players)."
Okay, it may be straight out of marketing copy-writer's handbook but I can't argue with its accuracy. I didn't hit one weak, empty fade during my rounds and consistently struck a straight or slightly drawing trajectory.
I felt these clubs played to my potential and I look forward to taking them to Portugal this week to compete in a pro-am and further examine their performance.
Verdict

At under £500 these rac OS irons (3-iron to pitching wedge) look an excellent investment. And the added sand-iron in the set I tested was as good as any I have tried in the last two years.
Golfmagic rating: 9/10