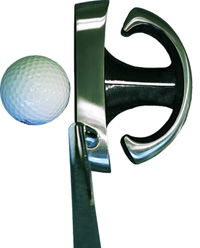 Cougar Pendulum putter
Price: £59
The sound of a putter is almost as distinctive as its design – and this latest offering from the rejuvenated Cougar Golf brand is no exception.
I was trying to remember what its looks reminded me of - certainly not the 'tuning fork' the makers describe.
And then I saw a TV news item about wild boar causing a nuisance on the Welsh/Gloucestershire in their incessant search for food just under the surface.
These pig-like animals ruin acres of grassland digging under the turf with tusks on the end of their snout. And it seems Cougar's putter designer had these creatures in mind when he created the club. Perhaps the original 'golf bore'!
However, this putter was highly effective on the greens with its wide, vibration-absorbent face, so easy to square up at address. The distinctive 'boing' sound of ball on polymer insert face was as loud compared with the 'ting' of a Ping Anser, or the soft thud of an Odyssey 2-ball.
As the name suggests, the putter is wielded with a pendulum action and I'd recommend you use the free headcover, which comes with it. I left it off during a round and found two of my irons entangled in the head!
Verdict

The sound off the clubface can be irritating – and the test model was perhaps two inches too long in the shaft for my taste – but it's one of the easiest putters to align and produced its best results from 20 feet or more. Worth a try.
Golfmagic rating: 8/10