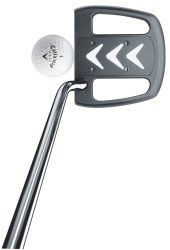 I-Trax alignment chevrons
Price: £149
A gadget I discovered at the London Golf Show, called the Eclipse Putter ball system, has to take major credit for enabling me to make this latest Callaway Golf putter one of the best I've reviewed.
Without it, the I-Trax might have been just another gimmicky putter styled on the 2-ball concept and using a pendulum technique.
However, combined with Shaun Womersley's £7.99 gadget which helps me adopt and new pre-shot routine, while positioning the ball in my stance so my eyes are aligned perfectly over it, the I-Trax suddenly took on magical qualities in my hand.
It felt light and balanced in my fingers and the ball strike induced a roll with no bumps, jumps or deviations. I didn't exactly hole everything I looked at during my last two competition rounds but at least I developed a feel for distance and a confidence over those tricky five footers.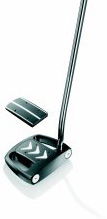 Interchangeable plate
On the face of it, the I-Trax is a simple-looking black-headed putter with a novel, interchangeable alignment But it's also riddled with innovations, which activate your senses of sound and feel.
At impact the club makes a 'pink' (as opposed to a 'ping') sound from the machined-milled aluminium face, delivering a feedback through ears and fingertips which fit perfectly into my follow through.
Heavy, brass face weights fixed at heel and toe and an aluminium one at back centre of the sole combine, say the makers, to deliver 'true, consistent roll and unwavering stability through impact.' And I can't argue with that.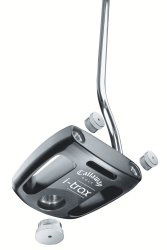 Showing face and sole weights
A fault of mine in the past has been to take the club on the outside in the takeaway but the weight system in the I-Trax encouraged me to correct this aberration and deliver the blade squarely to the ball.
As for the interchangeable alignment plate (quickly and easily changed with supplied allen key and four screws), I found the chevron option better than the straight-line alternative. They helped focus my eyes on the centre of the putter head and identify the target line.
Verdict

I'm sticking with the I-Trax, with its attractive and distinctive neoprene head cover, until such time as Odyssey send me a final demand for its return. As greens become faster and smoother during the summer months I'm going to be less inclined to let it out of my grip.
Golfmagic rating: 9.5/10