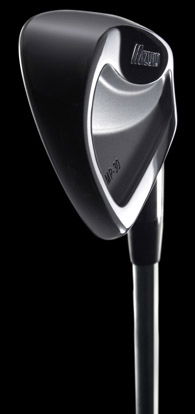 Mizuno's MP-30.
Price: £744 (3-PW, steel shafts)
Mizuno believes it has created the perfect club for serious golfers. And judging by our first impressions they are just about everything they claim. They have the looks of Claudia Schiffer, the finesse of a Bolshoi ballet dancer and pack a punch like Lennox Lewis.
Though the test clubs (from 3-iron to pitching wedge) were not specifically custom-made for me (apart from the regular shaft), I was pleasantly surprised how they performed straight out of the box on to the first tee at the Hotchkin Course at Woodhall Spa.
It's a bit like taking your driving test around central London at 8.30 on a Monday morning in a new Ferrari.
My first shot with the 8-iron from 140 yards flew high and handsome into a greenside bunker and my next, a wedge from thick heather, found more thick heather!
An inauspicious start but as I learned to adapt to heads that seemed a third smaller than the Wilson Fat Shafts I had been used to, and distinctly more delicate in the top line, I was able to appreciate the painstaking craftsmanship that had gone into these irons.
They have been 'grain flow forged' by craftsmen at Mizuno's Hiroshima factory which, in other words, means they have effectively been beaten into shape from molten metal to produce the consistency and feel for which the premier Japanese clubmakers are famous.
The sole is clearly wider than its MP-33 predecessor; the top-line a tad thicker while the use of U-grooves produced shots which quickly shuddered to attention on impact.
Mizuno is anxious to underline the extra feel the clubs achieve – much of it down to the subtle deeper cavity and more offset in the long irons and the shallower cavity and less offset in the short irons.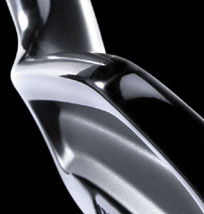 Beautiful lines of the MP-30s.





If I'm honest, these clubs seemed a little too exacting for my humble ten handicap but in the hands of six handicap colleague, Ian Coulson, whose opinion I respect, they were described as 'pure class.'

"They look great and sit behind the ball really well," he told me after playing 18 holes with them. "They feel very solid when you strike the ball out of the sweet spot, but were forgiving on mishits."

Ian noticed the heads were heavier than the cast clubs he normally uses, enabling him to generate the feeling of driving the clubhead through at impact.

"They are definitely a better player's club; I'm looking forward to the opportunity of playing with them over a longer period. I'd definitely place my blades into retirement in favour of these."

Like all clubs you pay handsomely for, our advice is to have them custom-fitted to your swing and your grip. Only that way will you get the full benefit of the work that has gone into them.
Verdict

To accept Mizuno's description of the MP-30s as 'perfect' having set themselves a target of producing a 'flawless' club, is perhaps spinning their own publicity a trifle. But having had, so far, a brief opportunity to place the clubs in the hands of serious golfers they have made a big first impression.
Golfmagic rating: 9/10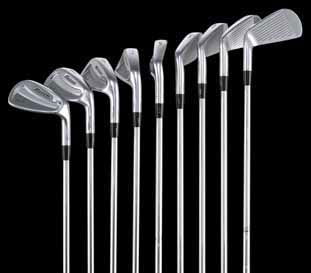 The MP-30 range.
Mizuno MP-30 irons (3-PW, with 2-iron option) are available in right hand models only with True Temper Dynamic Gold steel shafts.
Visit www.mizunoeurope.com or call 01189 362 100 for your nearest stockist and demo.