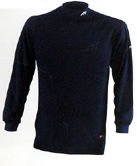 Breath Thermo - black or navy.
Price: £34.99 (S-XXL, black or navy)
The downside of golf in the winter is the necessity to wrap yourself in layers of clothing that can restrict your normal silky swing (I wish!)
Long-johns, thick trousers and socks, a high neck polo, lined jumper and probably waterproofs as well, can soon have you looking like a walking advertisement for Michelin tyres.
The result is your swing deteriorates into a unco-ordinated lurch and don't even think about taking hasty relief from that extra early morning cup of coffee!
Enter Mizuno's latest clothing sensation – the Breath Thermo turtleneck shirt. Bit of a mouthful to say but in 30 years of golf, it's probably the best of its kind I have worn. It not only keeps you warm without the bulk but worn with a suit you wouldn't look out of place at the Palace – Buckingham, Caesars or Crystal!
It's the second of Mizuno's temperature-controlled fabrics – following in the slip stream of the Ice Touch polo shirt, which keeps you a few degrees cooler on those warm summer days (remember them?).
Breatho Thermo is a thermal material which absorbs moisture from the body to generate heat – the colder the conditions, the higher the heat generated.
At the risk of suffering hypothermia, I wore the shirt under a windtop on a draughty Sunday recently and while my playing partners were in near shivering state, in jumpers and waterproofs, I was Mr Cool, uncluttered and warm as a dachsund in a duvet.
At £34.99 the new turtleneck, with long sleeves and cuffs, is as thin as a summer polo shirt but with moisture absorbing powers to control humidity between body and outside temperatures. It's available in either black or navy - I'd have preferred red, lime green or yellow, too - with white Mizuno logo on the collar in sizes from small to XXL. Call 01189 362 100 for your nearest stockist.
Verdict

If you're looking to buy for yourself or recommend as a Christmas gift - and 35 quid's the ceiling - the Breath Thermo turtleneck would get my vote.
Golfmagic rating: 9/10