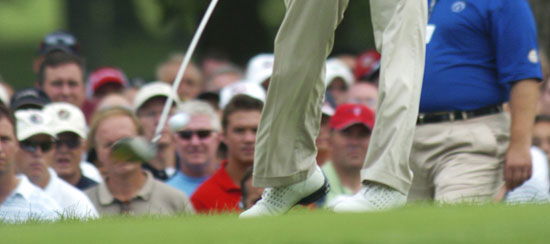 Grip it and rip it without paying a fortune
Distance doesn't necessarily come at a high price… as these modestly-priced budget drivers prove.
Visit any of the high street or discount stores or a pro shop local to you and you'll find a wide range of drivers you can pick from off the shelf at prices to suit your pocket. Most will have a stock shaft in regular or stiff sold as standard though we'd always recommend that you get yourself fitted by a professional with a head and shaft that matches your swing and your ability.
You can even get yourself fitted through an online process at many of the websites we have listed.
Here's a handful we've tried and recommend with prices suggested by the manufacturers:
---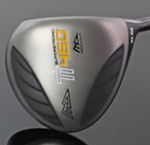 MD Superstrong
MD Superstrong (£99)
Lofts: 9.5, 10.5, 12
Contact: www.mdgolf.co.uk
The sub-£100 pricetag might be the first thing that catches the attention, but once hit it'll be the performance of Superstrong Ti that gets raved about. The stunning black Beta-Titanium head not only looks the business but performs too, producing a powerful and very solid strike on the ball, while the impressive ProForce shaft as standard caps a fine package.
---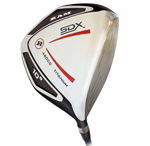 Ram SDX
RAM SDX (£59)
Lofts: 10.5, 12
Contact: www.ramgolf.co.uk
A new driver for less than £60? For that sort of money expectations will of course be low, but the SDX does actually deliver on its promise to be very forgiving and easy to use. It's not the best-looking club – the company's new TGX driver is far more appealing to the eye - but for the price it's not bad at all and is well worth a test drive if you're on a budget.
---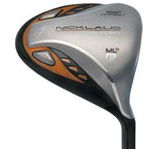 Nicklaus Dual Point ML3
Nicklaus Dual Point ML3 (£169)
Lofts: 8.5, 9.5, 10.5
Contact: www.nicklausgolf.com
For a brand which is starting to make greater in-roads into the UK market, Nicklaus Golf has made an impressive start to 2009 with the ML3 driver. With an expanded, multi-layered sweetspot, there's plenty of forgiveness, while an excellent Fujikura shaft makes it easy to get the ball in the air. Plenty of club for the money.
---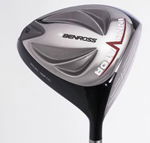 Benross Innovator X
Benross Innovator X (£129)
Lofts: 10, 12, 14
Contact: www.benrossgolf.com
The bullet-shaped head might not be to everybody's liking, but there can be no doubting the performance. An interchangeable weight port on the rear of the club allows golfers to switch between 3gram and 9gram weights, thereby raising the launch angle by as much as three degrees. The net result: longer drives. It really works, and the price is great too.
---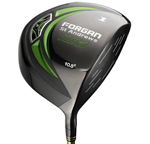 Forgan IWD
Forgan Golf IWD (£99)
Lofts: 9, 10.5, 12
Contact: www.forgan.co.uk
Having signed Ian Woosnam, one of golf's oldest brands is making a comeback. If all the clubs look as good as this one it will have been worth the wait. But lovely black finish aside, the IWD does have some serious substance, with its high MOI and low CG giving struggling players some genuine help in getting the ball on the fairway. The custom-fit options are also impressive at the price.
---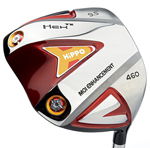 Hippo Hex TX
Hippo HEX TX (£99)
Lofts: 10.5, 12HL
Contact: www.hippo-golf.com
An updated version of the HEX2, the new TX version features the same radical geometry (more square than hexagonal) as its predecessor and a number of new performance-enhancing features such as two 8g weight ports on the far corners of the head and a lightweight carbon fibre crown. Both help increase the forgiveness and the launch angle, while the excellent Grafalloy ProLaunch shaft delivers plenty of power. An attractive proposition for the price.
---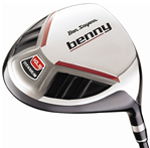 Ben Sayers Benny
Ben Sayers Benny (£99)
Lofts: 10.5, 13HT
Contact: www.bensayersgolf.com
With a choice of Graffalloy ProLaunch or Aldila NV shafts and multi-compound grips as standard, there is no doubting that the Benny gives you a lot of club for the money. Pleasingly, the club is as good as the sum of its parts; the bullet-shaped head looks good at address while the impact feel and ball flight can only be described as solid. Well worth considering.
---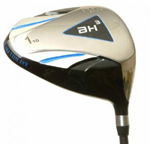 Bay Hill by Arnold Palmer BH3
Bay Hill BH3 (£99)
Loft: 10
Contact: www.bay-hill.net
The leading driver from Arnold Palmer's Bay Hill brand, the BH3 is all about forgiveness, with the Centre of Gravity positioned lower and deeper in the clubhead to help get the ball airborne and reduce spin rates for greater distance. The looks are very simple and although there is nothing in the way of loft or shaft options, it does exactly what it says on the tin.
---

Win Glenmuir shirts
What's in your bag?
For a chance to win one of the latest Glenmuir Performance Team shirts tell us about the clubs in your bag. Submit a comprehensive review - from balls to drivers, golf gloves to sets of irons, shoes to powered trolleys - and give it a rating.
At the end of June, we'll assess the entries and award shirts to worthy winners.
To submit a review CLICK HERE
---