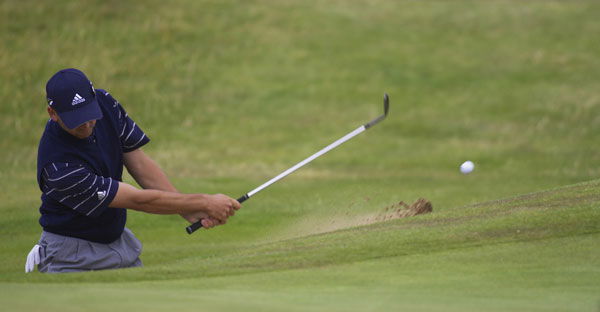 Wedges are a vital part of a golfer's armoury - there's one for almost every occasion
In the modern game, the lofted wedge is a key component of a golfer's bag. Indeed it's so vital the average player will carry more than one, while Tour pros like Sergio Garcia (above) will pack as many as four depending on the course and the conditions.
It's not as versatile as a hybrid or utility club - that's why we have one for chips and pitches, one for sand shots and maybe one for those parachute shots that look so cool but are difficult to achieve with any consistency.
Depending on your ability and your pocket you can pay as much for a wedge as a driver or a top quality putter but it's not paramount and here's a selection of budget wedges we recommend.
---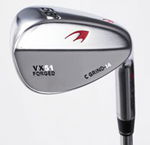 Benross VX-51 wedge
Benross VX51 (£59.99)
Lofts: 52, 56, 60 degrees
Contact: www.benrossgolf.com
A serious wedge that any player would be happy with. The forged head with its satin finish is gorgeous, the C-grind on the sole makes it easy to open up and use from all manner of lies, and like the forged irons, the standard shafts (Rifle Project X or Dynamic Gold) are the best there is. A lot of club for the money.
---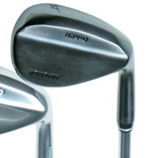 Hippo Houdini wedge
Hippo Houdini (£39.99)
Lofts: 52, 56, 60
Contact: www.hippo-golf.com
The name might be a bit silly but there is nothing funny about the wedge itself. Nicely weighted, good-looking, responsive and easy to use, this club is surprisingly good. The gun-metal version looks great and it also comes with a Dynamic Gold shaft as standard.
---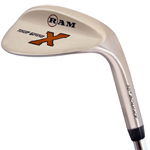 Ram Tour Grind X wedge
Ram Tour Grind X (£39.99)
Lofts: 52, 56, 60
Contact: www.ramgolf.co.uk
A classic wedge shape that will no doubt appeal to many golfers, the TGX has been designed with spin-control and playability in mind. It's very easy to use, and has some nice touches for the price, not least the Lamkin crossline grips and the option of a stunning black finish.
---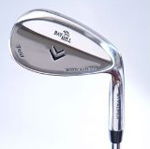 Palmer by Bay Hill chrome wedge
Bay Hill Chromed Steel (£29)
Lofts: 52, 56, 60, 64
Contact: www.bay-hill.net
A decent looking wedge at a price that is certainly right, this offering from Bay Hill is made from soft carbon steel and features Apollo steel shafts and Tour Feel grips. For the money, it's a club that won't disappoint.
---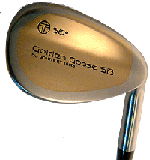 John Letters Golden Goose wedge
John Letters Golden Goose (£69.99)
Lofts: 9, 10.5, 12
Contact: www.johnletters.com
A name that first appeared in the 1940s, the John Letters Golden Goose is still going strong more than 60 years alter. The wedge that now bears the famous mark is a classically-shaped club with a high toe, long neck and shallow heel for plenty of shotmaking options, while U-grooves give maximum spin around the greens. The oil can finish tops off what is a good-looking wedge.
---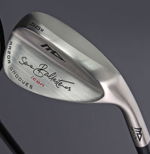 MD Golf Seve Grind wedge
MD Golf Seve Grind (£69.99)
Lofts: 48, 50, 52, 54, 56, 58, 60
Contact: www.mdgolf.co.uk
A wedge with the Seve name on it has plenty to live up to, but this is one that the great man himself would be proud of. With the toe and heel ground down to enable all manner of shots to be played, it's a very versatile club. The addition of modified V-grooves (MD calls them Razor Grooves) makes controlling, or generating, spin a doddle. A lovely club.
---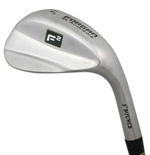 Forgan Series 2 wedge
Forgan Series 2 (£14.99)
Lofts: 56, 60, 64
Contact: www.forgan.co.uk
With the price of these wedges having been reduced from almost £70 to just under £15, a bargain is certainly there for the taking. Forgan's reputation as a maker of excellent clubs appears justified, and these wedges not only look the part but do everything asked of them. A steal.
---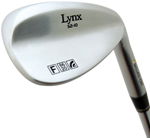 Lynx Hallwark wedge
Lynx Hallmark (£49.99)
Lofts: 52, 56, 60
Contact: www.lynx-golf.co.uk
One of the best looking wedges in any price bracket, the Lynx Hallmark really does exude quality. Hand-forged from heat-treated carbon-steel and featuring a milled face, these wedges are as soft as they are solid to hit. Dynamic Gold shafts and Golf Price grips top off a great all-round package.
---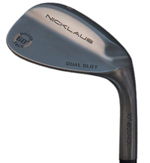 Nicklaus Dual slot wedge
Nicklaus Dual Slot (£59.99)
Lofts: 52, 56, 60
Contact: www.nicklausgolf.com
Featuring a dual slot heel relief – basically two grooves in the heel that a reduce resistance when you open up the clubface – the Nicklaus wedge is a very technical club that is packed with features that also include a CNC milled face, nickel plating and a bevelled trailing edge. The net result is a club with a straight leading edge that gives control and feel on those tricky short-game shots.
---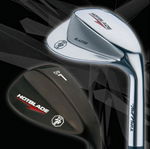 Hot Blade wedge and Hot Blade Blaster
Hotblade (£59.99)
Lofts: 52, 56, 60
Contact: www.hotblade.co.uk
Black and chrome Hotblade wedges have a special grind on the sole to make them suitable, by subtle use of the hands and ball position to play a variety of shots. The Hotblade range also features a specialist bunker wedge, the Hotblade Blaster (£59.99) - with the 56 and 60-degree options - which, the company claims, takes the fear out of any kind of shots from sand with its unique head design concentrating weight in the sole.
---

Win Glenmuir shirts
What's in your bag?
For a chance to win one of the latest Glenmuir Performance Team shirts tell us about the clubs in your bag. Submit a comprehensive review - from balls to drivers, golf gloves to sets of irons, shoes to powered trolleys - and give it a rating.
At the end of June, we'll assess the entries and award shirts to worthy winners.
To submit a review CLICK HERE
---