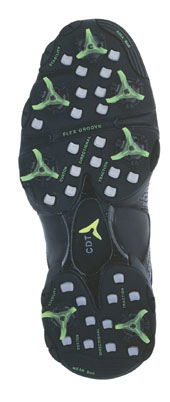 Hi-Tec CDT sole pattern
Price :£85 (Sizes 6-12 – black, white/walnut, white/tan-brown)
Ireland's top-ranked golfer Padraig Harrington claims he's hitting the ball further than ever – and much of it is down to the shoes on his feet.
As American PGA Tour pro John Huston discovered to his cost some 15 years ago, it's illegal to adapt or build-up golf shoes to give an unfair advantage but Hi-Tec, who make golf shoes for Harrington, Ryder Cup captain Ian Woosnam and South African big-hitter Charl Schwartzel, have found a way to give extra grip to gain extra yards. And it's legal.
Hi-Tec, in conjunction with Harrington and bio-mechanics expert Dr Paul Hurrion has developed an adjustable, custom directional, traction system for its CDT Power shoes which, it claims, increases stability, enabling golfers to hit the ball harder, faster and further.
After intensive research Hi-Tec came up with the CDT launch pad sole, wider than your average and covering several more square centimetres of turf. The MacNeill Q-Lok system cleats were also re-designed to be custom-fitted to suit all conditions - Power Plus for maximum traction to fully load your swing, Perimeter (ideal for all-rounder) and Uphill/Downhill (for hilly courses).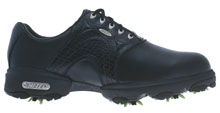 Black and stable
Hi-Tec recorded and analysed Harrington's foot movement with high-speed film and using special transparent platforms and software to identify weight distribution and changing pressure patterns in his swing.
They discovered the longer a player's centre of gravity can continue towards the target the more energy is directed there. Hi-Tec says tests proved that in bare feet Harrington was 65% efficient, in Hi-Tec Custom V-lite shoes 78% and in CDT Power shoes 94% efficient.
In addition the Irishman was able increased ball speed off the clubface from 166 mph to 173 mph in the new shoes and in December led the European Tour driving statistics with an average of 320.6 yards.
Says Harrington: "Golfers are always questioning their game and I wondered if shoe technology could increase the power of my swing. Is there something out there better than metal golf spikes? I sat down with Hi-Tec and Quintic Consultancy to investigate and eventually the hard work paid off. The answers are yes and yes. I ask you to judge the results for yourself."
I have worn these shoes during two rounds of golf in contrasting muddy and dry conditions and found the grip exceptional.
Whether the shoes have added extra yards to my driving is debatable, but certainly in heavy conditions it takes only a couple of stamps with the wider sole to repair a saucer-sized divot, as opposed to three or four with some other brands!
As for comfort, I regularly suffer with blisters with new shoes and sadly these were no exception. But these shoes come with regular or wide-fit insoles (together with three spare cleats and a Q-Lok tool) and I eventually settled on the correct combination.
Verdict

Style-wise I have to admit, even the all-black model make my feet look like I've stepped out from a clown's costume at Billy Smart's circus. But certainly stability, especially with hard, distance-seeking swings on winter tee mats, is much improved. The jury's still out on comfort but for a few extra yards on my drive it's worth the occasional hobble to reach my ball.
Golfmagic verdict: 8/10