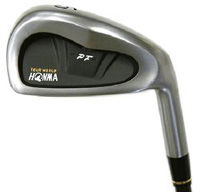 Honma PF irons
Price: PF - £2,008 (3-PW, graphite shafts); Twin Marks AP-301 - £1,258 (3-PW, steel shafts)
The PF irons have been developed by Honma for their handful of pros on the LPGA and Asian Tours and look distinctly classy with their black cavity backs.
First impression is that they have the look of the latest Callaway Fusion irons, with their black thermoplastic cavities and sit nicely at address.
I was impressed with the feel they generate, also producing a penetrating ball flight that held its line despite the icy blasts, which have tempered our UK golf in recent weeks.
I tested the 5, 7- and 9-iron from the set of eight and found the 5-iron generated a few extra yards on the TaylorMade rac irons I recently reviewed, but this was chiefly down to a lower ball flight de;livered by the Honma clubs.
The 7-iron was similarly slightly longer while the 9-iron provided a crunchy impact feel and proved a tidy chipping tool around the green.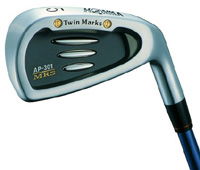 Honma AP-301 irons
I was less impressed by the Twin Marks AP-301 MRS irons, chiefly because the Titanium insert faces on 4-, 6- and 8-irons I tested, looked a throwback to similar ones I'd seen on the original John Letters Trilogy in the mid 1990s.
They were scheduled to be 'the next best thing' in golf but never really attracted wide appeal.
For clubs priced about £160 each and aimed at the business class end of the market as opposed to the VIP golfer, I found them less forgiving, despite the thicker heel and wider sweet spot Honma claimed.
Verdict

Other reviewers with an high target advertising budget to meet, may suddenly find Honma's new irons more appealing. But they're not my cup of Oriental tea.
Golfmagic rating: Honma PF – 7.5/10; Honma AP-301 – 7/10