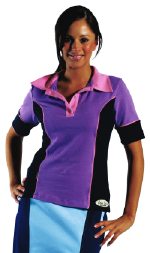 Stylish from Moose
Prices: £18 (Classic polo) to £37.50 (Eva fitted range)
Anyone who has tried to find stylish, women's golf wear knows that it can sometimes be easier finding a needle in in a sack of cotton reels.
And with the women's game becoming more high profile with the achievements of Annika Sorenstam, Michelle Wie and our Solheim Cup girls, it's refreshing to find a UK company producing clothing that offers us the chance to feel and look like superstars on the course.
Flintshire-based Moose Golf Clothing has produced a range of quality golfwear inspired by sport, comfort and femininity. Forget the days of the floral polos and ballooning checked trousers, this stuff looks good, feels good and fluffs up our self-esteem.
Chris Jones, company chief executive, says that the 'Moose' golfer 'epitomises the new age in the sport for women, where vibrant colour reflects the confidence of an emerging force and the classic cut promotes all the beauty of the feminine form'.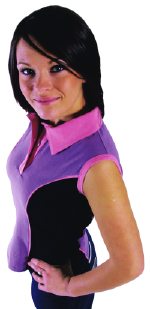 Figure-hugging
Some tweedy captains and committee members might not be ready for the figure hugging styles, but if you're trying to encourage a younger element to take up the game, Moose has develop an eye-catching style.
When I received samples of their Summer 2004 range, what struck me was their trendiness. Colours of the 'Serena' classic sleeved polo shirt, and 'Piera' cropped trousers would not look out of place in a cool nightclub or bar while the Vinci Bella, range of sleeveless shirts, sweaters and shorts, lives up to its translation- "win beautifully".
And it's not only the cut of these clothes that earn top marks, cool comfort ranks highly too - and US Tour player Becky Morgan and European Tour golfer, Jackie Kebbell, who showcase the range, are already turning heads.
Verdict
Having played a few rounds in warm, summer conditions, I had no complaints as to the clothing's breathability and found them exceptionally comfortable. Moose has certainly filled the previously frustrating gap in women's golf fashion. Go and get em, girls!
Golfmagic rating: 9/10

*Find out more about the range or buy directly from the Moosegolf website. For your nearest stockist call 01352 732 519.