Srixon's W-302 driver
Price £199
Srixon's XX10 driver was always going to be a hard act to follow. Not only did it win a giant comparison test in a leading magazine but it was given rave reviews by a handful of Golfmagic visitors
So when Srixon introduced the W-302 driver, which conforms to the strict hot-face guidelines of the R&A, it was bound to be perceived as a bit of a wuss in comparison to its non-conforming big brother.
Consequently I opted for a stiff-shafted version for my review, to try to squeeze a little extra out of the 380cc head with its thin, forged titanium face.
Big mistake. While the rib construction is designed to provide more feel and feedback, as well as forgiveness, it just could not compete with the macho distances put down by my pals with their Cobras, Titleists and TaylorMades.
While it's sometimes an advantage to get your blow in first on to the green, it was intimidating to be persistently seeing them out of the corner of my eye, 15-20 yards ahead, waiting to play.
The club is aimed at those with faster-swings, especially with its stiffer SV-301 shaft, but despite what it says in the manufacturers blurb about high launch angle and low spin, it was tough for me to get airborne, even with a 10.5 degree loft.
Of the 25-per cent I struck nicely, I got a low, running trajectory. But without the control I needed, the ball was often pulled up short by the rough.
Verdict

I so desperately wanted to like this club. It's looks superb at address, has an excellent Lamkin Crossfire grip and distinctive, smart headcover. But I couldn't get it to perform for me.
Golfmagic rating: 7.5/10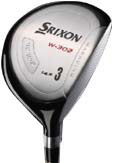 Srixon W-302 fairway metal
Srixon W-302 fairway metal
Price: £169
It was a similar story with the Srixon W-302 fairway metal, which the manufacturers claim incorporates all of the playability features of the W-302 driver.
"The W-302 fairway woods have the shape and profile that will give every golfer the confidence to hit it off the deck and go after those Par 5s in two" they say.
My test version was a 16.5 degree 4-wood, again with a stiff shaft.
While the low trajectory didn't reflect the low centre of gravity built into the club (supposed to get the ball airborne quicker) it did have the kind of piercing trajectory that grabs you the extra yardage often required to get to par-5s in two hits. Sadly I didn't get far enough with the driver, so these holes were still out of my reach.
Verdict

The low profile head and the sole design allows the club to move easily through the grass and across the turf. But the strike is quite in the same league as the Mizuno MP-001 5-wood – still the best 'conforming' fairway metal on the market.
Golfmagic rating: 7.5/10