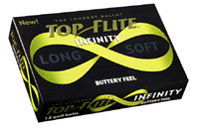 Top-Flite Infinity.
Price: £19.99 per dozen
When John Hutchison unleashed his drive on the 364-yard 9th at Greetham Valley, into a slight crosswind it looked to be arcing nicely towards the middle of the fairway, as the group ahead were putting out.
Minutes later the son of former Manchester City and Scotland soccer idol Tommy Hutchison, discovered the new Top Flite Infinity ball I'd given him to sample was nestling in the middle of the green and promptly rolled in an uphill 15-footer for an eagle two (nett albatross) and five stableford points with his ten handicap.
We agreed this ball – due to be released shortly – has both the distance and the feel it claims.
The makers claim it's the longest and softest two-piece ball they have ever made – a combination of large but soft Fusion core and paper-thin Elastomer cover.
I'm less impressed with the need to copy Dunlop's ButterSoft label with the Top-Flite description of the Infinity having a 'buttery soft' feel – sounds like one for the legal departments!
The new ball will be available in four options. As well as 'buttery feel' – you will get models labelled 'Absolutely Straight', 'Awesome Distance' and 'Ideal Spin'.
With the long and soft properties demanded by golfers satisfied, there has to be a trade-off in terms of spin and control.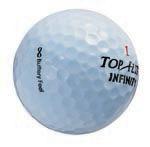 Infinity ball with the 'buttery feel'.
And I have to say that with the 'buttery' ball the spin characteristics are less pronounced. Unlike some more expensive balls, pitchmarks were hard to find and it was tough to hold on the green, even when well struck. Too many shots seem to be played from the back fringe.
However, at less than £5 for a sleeve of three, it's an excellent value ball – performing better than products at twice the price.
Verdict

Though it's an odd time to be launching a new ball – with long summer days shortening at a frantic rate – the Infinity could well re-launch Top-Flite's fortunes in the ball market after the Strata, Top-Flite XL 3000 and Ben Hogan models failed to make the impression hoped for. With the right promotional support, it can rival the Pinnacle in the budget category.
Golfmagic rating: 9/10