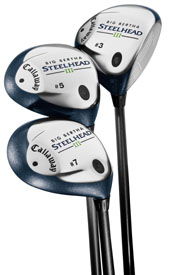 Part of Steelhead III family.
Callaway Steelhead III 9-wood
Price: £139
Ever since I first spotted a persimmon-headed 7-wood in the shop of my local pro back in the early 1980s, I've been a fan of these high-lofted clubs.
I paid £21 for my steel-shafted club with a highly polished yellowish head and it proved a godsend out of fluffy rough and for tee shots to long par-3 or into a stiff wind.
Sadly the head snapped off through too much robust over-use but by that time metal-headed versions had arrived.
The clubs are still referred to as 'gentlemen's persuaders' inferring they are a club for senior golfers and women who can't handle long irons.
Technology has moved on apace, however, and no self-respecting handicap golfer is without the versatile 7-wood in his bag even though some traditionalist believe it's a girlie club.
In recent weeks – having owned a Callaway Steelhead Plus 7-wood for several years - I've taken it a stage further with the temporary acquisition of a Callaway Steelhead III 9-wood.
And I'm hooked.
Ryder Cup hero Paul McGinley told me in an interview that more use of the high-lofted fairway metals was the way forward for handicap golfers. He has found it increasingly irritating to see pro-am partners trying to emulate the pros by trying to hit towering 3- and 4-irons.
"They tell me they're too embarrassed to use clubs the ladies play with. But that's a daft, macho attitude. 7-, 9- and even 11-wood fairway metals are terrific and very versatile."
While my 7-wood serves me well on 180-190-yard par-3 holes and from even 30 yards further from flying lies in the semi-rough, the 9-wood has fitted nicely into the 4- to 5-iron slot 20 to 30 yards back from the 150 markers in the fairway.
The 23-degree face gives me a towering ball flight and, more often than not, a pitchmark to repair in the green. Apparently the new line has a lower centre of gravity built in to generate a higher launch angle and spin rate.
The sound of the face is a little lower-pitched 'Ting' than the 7-wood, probably because of the perception of a heavier head attached to the graphite shaft. The heads are a little bigger than the Steelhead Plus range and have Variable Face Thickness (VFT) technology.
The club certainly came into its own the other night. In trouble in our club pairs match, I was still about 185 yards from the par-5 16th green in two and in gathering gloom. I convinced myself the 9-wood was the right club. It certainly was. When I arrived, the pitchmark was 10 feet from the pin and the ball a few feet closer. We retained our one-up lead and went to to win.
Verdict

I've been so impressed with the 'Devine' 9-wood which is very forgiving for off-centre strikes as well as being accurate, that I'm currently taking out a 25-degree loft Ely 11-wood to keep it company. I'll report back on its performance in a couple of weeks.
Golfmagic rating: 9/10