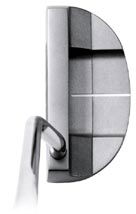 Blue Chip mallet.
Price: £119 (heel-toe and mid-mallet)
I've had a brass-headed putter for nearly 30 years and a Ping Specify custom-made to my own specification. I use both as a benchmark when assessing new putters but have yet to find any putter to match them in terms of feel and consistency.
Since trying a host of new models including the Scotty Cameron Futura, Odyssey's two-ball White Hot and DFX and TaylorMade's Rossa, I have come to the conclusion that insert face putters are not for me.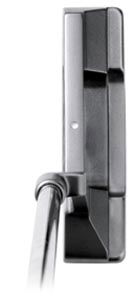 Blue Chip heel-toe.




I expected Nike's latest Blue Chip conventional heel-toe (BC101) and mid-mallet (BC002) to give me that confidence over four to six footers but found these electric blue insert faces difficult to control.

While both clubs give me extra roll on the longer putts, from the fringe or at least 20 feet across an undulating green, because of their firm feel, from close range I felt a nervousness that is certainly not present with the Specify.

Although the white bar alignment on the mallet putter helped to size up the direction the ball needed to roll, the dot on top of the heel-toe model merely identified the middle of the ball. It was no more than mere cosmetics – they might as well have replaced it with a Nike swoosh!
Verdict

According to the support blurb both putters are more forgiving, reduce skidding and create great feel, but putting's about confidence and at just under £120 my peace of mind was more dented than enhanced.
Golfmagic rating: 7/10