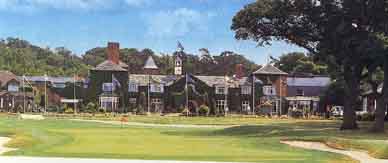 The De Vere Belfry - home to the Ryder Cup matches.
The Brabazon course at The De Vere Belfry which stages the Ryder Cup between Europe and the US from September 27-29, has undergone some major and, more recently, subtle changes.
Landing areas have been narrowed, bunkers re-modelled and greens tweaked and re-shaped to give the European team as much home advantage as possible.
New technology has benefitted both sides since the match was last staged here in 1993 but course designer Dave Thomas, himself twice an Open runner-up, has kept in close communication with European captain Sam Torrance to make sure the changes are fair but demanding.
Jose Maria Olazabal missed out this year on selection but has won on the re-modelled course in the 2000 Benson and Hedges International. His comments reveal a fascinating insight for golfmagic followers.
This week we cover the front nine holes. Next week we'll investigate the back nine.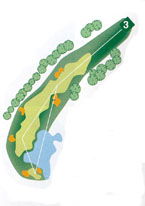 Newly-designed third.
Hole 1 ( 411 yards) par-4
What's new: Lowered teeing area creates a bowl atmosphere. Extra bunker on the right.
What Olazabal says:"The first hole (411 yards, par-4) depends on the wind. It can be 3-wood, then 9-iron or it could need a 5-iron approach into a small green – and that's not much fun."
Hole 2 (379 yards) Par-4
What's new: Lengthened to 379 yards, new bunkers on the left, bunkers in the front re-shaped.
Olazabal:"Well protected and now bunkers on the left, demands the tee shot played to the right. Green slopes from the back.
Hole 3 (538 yards) par-5
What's new: Lengthened from a straightaway par-4 to dogleg par-5. Lake at the front of the green mounding around the back.
Olazabal: "Very important hole because it can get your round going. It's a par-5 with a lake in front but it's reachable in two, but only after a perfect drive that hugs the left side of the fairway."
Hole 4 (442 yards) Par-4
What's new: Shortened from a par-5. Bunkers on the left and right at driving distance. Lake at front of multi-level and shallow green.
Olazabal: "Tough par-4. Demanding tee shot avoiding bunkers on both sides. Even a shot that finds the green is no guarantee of par because it's important to find the right tier."
Hole 5 (408 yards) par-4
What's new: Stream that used to cross the fairway has been replaced by a pond on the left and a new fairway bunker on the right. Spectator mound on the back left of the green gives an ideal vantage point.
Olazabal: "One of the few straightforward holes, though it's usually into wind. Shallow kidney-shaped green with a couple of tricky pin positions on the left that will be hard to read."
Hole 6 (395 yards) par-4
What's new: Fairway has been lowered to make the water more visible off the tee.
Olazabal: "This is where I find the course gets tough and not a place for the driver with water left pushing you towards a bunker on the right. 1 or 2-iron and 5-iron approach is a good call."
Hole 7 (177 yards) par-3
What's new: Originally it looked like a fortress with wood sleepers surrounding the green and a sandy 'moat'. Now replaced by imaginative, if cosmetic, bunkering
Olazabal: "Green slopes severely from the back, so it's important to get the clubbing (5 or 6-iron) spot on to avoid a tricky downhill putt."
Hole 8 (428 yards) par-4
What's new: Bunkers on the right come more into play with the corner of the lake and shaved banks waiting to collect any wayward pull.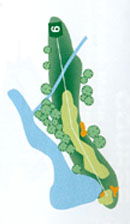 9th:Get your par and run.
Olazabal:
"Great hole, demands utmost respect. Hazards force you to take driver to get far enough to find the green in two. Need to be accurate for the second shot over stream; green narrows towards the back so expect tough pin on Sunday.
Hole 9 (433 yards) par-4
What's new: Bunker n the left has been made larger so it takes a chunk of the previous fairway.
Olazabal: "Only a long, straight tee shot will give you the chance to play a mid-iron to a three-tier green. Back right makes it a small target."