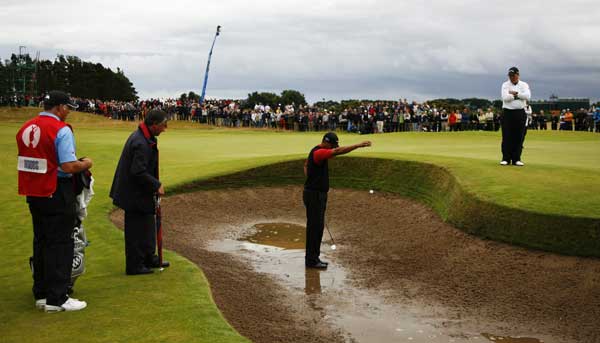 Tiger Woods takes a free drop in wet sand during the 2007 Open at Carnoustie.
During the winter months the sand in greenside bunkers becomes wet, hard and compacted. While the normal bunker technique still works to get the ball out and on to the green but you may have to change your club to one with less 'bounce'.
Too often I see golfers in pro-ams reach for their trusty sand iron because simply that's what it indicated on the sole (S = sand). But the sand-iron has 'bounce' built into it to help cushion the ball out of normal sand conditions. Use it in wet, or firm sand and the 'bounce' will tend to lift the leading edge of the club and inevitably the ball will be hit on it equator and thinned into the face of the bunker.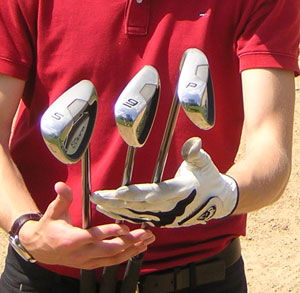 A selection of wedges to use from sand




In order to become more consistent in extract the ball successfully from wet or compacted sand use the leading edge of the club to hitting the sand first and drive under the ball.

Using a sand iron, with a large flange, will make the club bounce off the surface and making it nearly impossible to get underneath the ball.

I suggest you experiment with your pitching wedge or even your 9-iron, designed differently to help cut into the turf (and therefore the sand) rather than bouncing off it.

Using either of these clubs also ensures your head doesn't come up until after impact to avoid thinning the ball. Remember, learn to vary the wedges you use from sand, depending on the conditions and youwill save valuable shots around the green.

John Hoskison is attached to the Newbury Golf Centre and plays on the European Seniors Tour. For further information visit John's website at www.johnhoskisongolf.com.