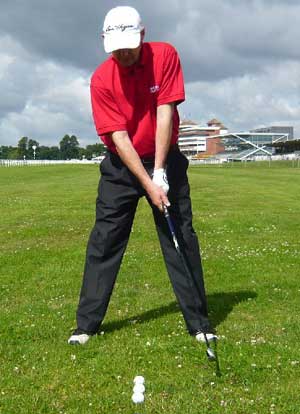 Hover the club over the ball and hit three balls consecutively
When a golfer becomes confused about how to swing the club it's clearly visible. You just have to look at the players you regularly join you for that Saturday or Sunday morning fourball.
How many of your playing companions tend to stand what seems forever over the ball trying to focus on one of the many swing thoughts bombarding their brains. You may well be one of them.
For golfers like this, it's almost impossible to swing naturally and rather than get caught in the trap, try these exercises on the range to cultivate a more natural swing that will hopefully give you more consistent results.
Take ten balls and get ready to hit one of them. But rather than addressing the ball with the club on the ground, start the swing with the club off the ground and above the ball - in other words hovering the clubhead. Don't let the club become stationary before making your swing. If you can do this effectively it will reduce tension and promote a much smoother takeaway.
Here's another good exercise to generate a more natural golf swing - though it requires some faith and commitment. This time take three balls and put them in a line two inches apart. Hit the first one then without stopping, swing again and hit the other two consecutively adjusting your stance slightly towards the remaining balls as you go.
If you can do this in practice, it will teach you how to keep the swing fluid and very soon you'll find that you strike all three balls pretty well. This exercise promotes a natural swing action without making bad moves to disrupt the natural swing orbit.
When trying these exercises, don't worry how you hit the ball. Initially the ball-striking is unimportant, the primary goal is to feel a more natural, flowing swing. Once you have practised this a few times, hopefully muscle memory will kick in and you will be able to incorporate the feel of a more natural swing when you hit golf shots on the course.
John Hoskison is attached to the Newbury Golf Centre and plays on the European Seniors Tour, having earned a conditional card after finishing 10th at Qualifying School at the Pestana. He returned to the UK to rebuild his career in tournament golf after spending time in China, where he was instrumental in the building a driving range for underprivileged children Fuzhou. He won the 2005 Jamega Tour Order of Merit with six victories from 12 starts. For further information visit John's website at www.johnhoskisongolf.com.