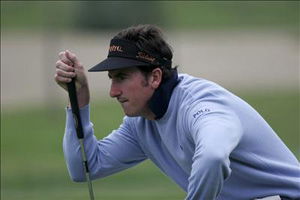 Quality tips from Spanish ace Fernandez-Castano
Former European Tour rookie of the year Gonzalo Fernandez-Castano, is the latest winner on Tour at the Italian Open. Remember back in 2006, how he took time out from playing alongside Miguel Angel Jimenez in the WGC World Cup in Barbados to speak with Golfmagic.com exclusively about tips he can pass on to club golfers?
We're sure you will all learn something from his advice:
What putting grip are you currently using - and why?
I've been using left-hand-below-right for the past four or five years and I'm putting OK now, so every time I try to change to a normal grip again it feels strange.
Describe your pre-shot routine for driving
Once you decide on the shot you are going to take, it's all about feel. You forget about the technique and have good feelings and try to hit the shot you imagine. My normal ball flight is a little fade, so I stick to that. Sometimes I try to hit a draw, but that's not my favourite shot.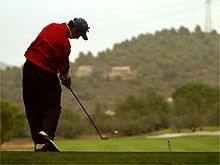 First tee tip
A tip for amateurs nervous about their opening tee shot
I think you have to breathe deeply because everybody's nervous on the first tee; it's always a difficult shot whether you're playing in the World Cup or with your friends for some money. Just try to put it in play.
How do you respond mentally to being put on the clock - and being held up?
I don't like playing slowly at all. I think I'm a fast player and I hate playing with some guys who are really, really slow. I think as professionals, we think about things too much. Foursomes is a good format because when your partner is teeing off you can walk ahead of your partner. In Scotland you would play this format in two and a half hours.
What's your pre-round putting green routine?
I always try to hit some long putts to get the pace of the greens and I like to finish with some shorts ones to get some confidence with them. I try to keep my head still then swing it low and slow.
Chipping from the fringe - club selection process?
It depends on the amount of green you can work with, but I normally use between a sand wedge or a gap wedge; maximum is my pitching wedge. I'm not a good chipper with the 7- or 8-iron, although I know I should be. But I'm used to using a sand wedge, it is the way I learned (I started playing aged five) and I stick to it.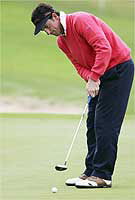 Pace is key to putting up a tier
Putting up the tier: What should you know?
You have to be very careful with the pace because the speed can change a lot. You don't have to think about the tier too much.
Which is worse and why - rain or wind?
I like wind and I don't mind rain, especially if I have a good caddie. But for amateurs rain is difficult. I remember when I was an amateur, taking care of the umbrella and the towel and keeping the clubs dry. But if I have a good caddie then rain is not a problem. I consider I'm a good player in the wind.
Nap or grain - what's the difference?
We don't have a lot of nap or grain on greens in Europe. It is difficult to get used to them in Asia but once you do, it's like putting on a carpet.
Pro-Ams: What's good, what's bad?
This is part of our job. We have to thank the sponsors for the big money that they put in the events, so playing one day with them is probably not enough. We have to enjoy it and be thankful to them and help them enjoy their day. I remember when I was an amateur, playing with a professional was a big thing. I know the way they feel. However, it does take too long, sometimes about six hours. But that's OK.
Downhill and sidehill lies. What's your thought process?
For a downhill lie, it's probably one club less than the distance you face because the angle of the clubface will decrease a little and you'll hit the ball a bit longer. Position the ball a little more on your right foot and make a normal swing keeping your body at right-angles to the slope. The opposite applies with an uphill lie. Take one club more (than the distance normally dictates) because the ball will fly higher and shorter, than a normal lie. Again keep your body perpendicular to the upslope. As Spanish players, we like these difficult shots!