One of the UK's leading mind coaches believes he has the answer to helping golfers hole more of those dreaded three and four-foot putts.
Tim Smale, whose clients include former Labour Party spin-doctor Alastair Campbell and a host of sporting stars and high-profile business people, believes a 35-minutes-a-day mental masterclass in short putting - via his golf hypnotherapy downloads and CDs - can spell an end to short putt misery for millions of golfers.
He has joined forces with Chris Jenkins, a PGA professional and coach to new tour sensation Oliver Fisher, to launch www.golfhypnotherapy.com, dedicated to providing techniques targeted at times in a round when pressure and anxiety can wreak havoc.
"In competition play, golfers face around 50 high pressure situations during a round and nervous tension can cause even the best players in the world to 'choke'," says Smale (46).
"Facing a short putt for par may seem like an easy task until you actually step up to the ball - then this tiddler can suddenly look like a 10-foot monster. Nervous tension and a sudden fear of missing combine with disastrous effects and what generally happens is that the subconscious mind - the powerful part of the brain which enables humans to perform simple functions 'without thinking' - is overruled.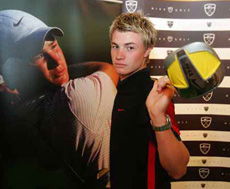 Nike's new capture -Oliver Fisher




"We aim to create products that enable golfers to harness the power of their subconscious using a mixture of clinical hypnosis and executive coaching - it's fast and effective in making wholesale behavioural change using safe and ethical hypnotherapeutic techniques.

Smale says his objective is to use hypnosis to access the subconscious mind to resolve issues quickly - and expects golfers to see improvements to their game after listening to to either CDs or downloads just three times."

'Become A Deadly Short Putter' features tips, drills and information used by Jenkins to help clients golfers like 18-year-old Fisher - one of the youngest to gain full playing rights from the European Tour School at San Roque - to develop confidence and a repeatable technique on the greens. A second product 'Beat First tee Nerves' is designed to help golfers make a great start to their round - and keep it going.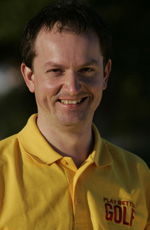 Chris Jenkins - 'a mind coach is like an extra club in your bag'




Says Jenkins (39), pro at Crowlands Heath Golf Club in Sussex, who has taught Fisher since he was a nine-year-old prodigy: "A mind coach is like having an extra club in the bag. All the top pros have them but the average golfer can't afford that resource. But now we can give club golfers the chance to experience all the techniques used by the pros - from the comfort of their own home."

Adds Smale, who spent 20 years working in senior management roles and uses hypnosis to enhance performance, modify behaviour and manage stress for individuals in corporate business: "The power of the subconscious mind is a resource we can tap into for creativity, emotion and intuition. In a golf context we can use it, subconsciously, to play better by using good habits 'without thinking'.

Jamil Qureshi, magician-turned-psychologist was signed up to work with the European Ryder Cup team and has private clients including Simon Dyson, Thomas Bjorn and Lee Westwood, while Darren Clarke, Paul McGinley and Graeme McDowell are among those working with psychologist Dr Karl Morris.

Smale and Jenkins are hoping to that their products will add a new dimension to improving the game of the average club golfer.

Tell us on the forum, what you think of this relatively new form of help to improve golf performance. Have you received hypnosis or psychology coaching to help your golf?

*Oliver Fisher has joined the Nike Golf Tour staff to play its Sasquatch Tour driver and 3-wood, forged blades, SV wedges and One Black ball.