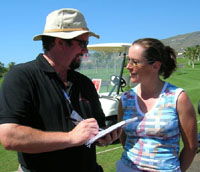 Tim Beard talks tips with Su Dickens
Practice makes perfect. It's an old cliché and one that is grossly misinterpreted by golfers, young and old, male or female.
Everyone tells you as you plough through your golf career, experiencing the ups and downs, the joys and frustrations, that the more you practice the luckier you get.
But according to some people in the know, whom I met on a recent visit to Tenerife, the old adage simply isn't true.
In order to go some way to mastering the game of golf, it's not just a case of beating balls on the range. That's not practice that's purgatory. What's required is purposeful practice working on the right things, improving your weaknesses and ensuring you're not practising your way into a bad habit…grooving your faults
We've all gone to the golf range, paid for our bucket of balls and enjoyed smashing them out towards the yardage boards and flags. But is that doing us any good?
At the Tenerife Ladies Open, I had the chance to chat to a few of the competitors and ask them not only what they work on but how amateur club golfers should be conducting their practice sessions to get the most from them.
Down on the grassy bowl which forms the practice ground at the Costa Adeje golf course, I bumped into England's Kirsty S. Taylor, who was enjoying the bright sunshine and cooling breeze having arrived on the island direct from a Tour event in Thailand, where players had suffered with temperatures around 45 degrees C and 95% humidity.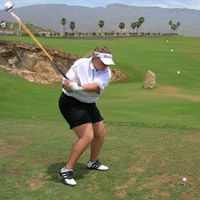 Kirsty Taylor in action




"I have seen amateur golfers hit literally hundreds of golf balls but not concentrate on any of them," she said. "Far better to pay a quid for a bucket of 50 balls and concentrate on every shot."

So what's Kirsty's pre-round programme?

"I hit a few wedges, then a few 8- and 6-irons, then a few with the driver."

Pros say it's important to watch the flight of the ball to discover what game you have brought with you on a particular day and how to make the most of your ball-striking.

She adds: "I'll warm down with a couple of wedges and I'm ready to go."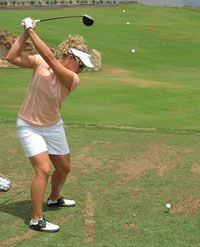 Zuzana Kamasova – definite views
Young Slovakian rookie Zuzana Kamasova joined the Tour last November from the Qualifying School and has played only a handful of pro events. But she already has some very definite views on how amateurs should target their practice.
"If you play a lot of golf courses, you get used to playing from different types of fairways. I spend extra time chipping and on the putting green. Too many people just come and hit balls and don't even know where they are aiming."
English pro Suzanne Dickens, reckons you should divide up your practice time.
"Dedicate the same amount of time to your short game as you do to other areas of your game. The short game is so important. If you can improve it little by little you will save yourself so many shots out on the course."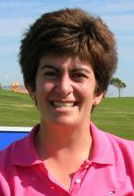 Lora Fairclough – get a feel for chipping
My pro partner for the pro-am was 15-year Tour veteran Lora Fairclough, a Chorley lass who loves her golf, but is a great Bolton Wanderers fan, too.
"When people first take up the game, the first thing they should do is get comfortable with the short game. Get the feel for chipping and putting," she says.
While Lora appreciates that the macho male loves to hit the ball great distances with their driver, there's just as much of a thrill when pitching and chipping close to the pin or holing a decent putt.
So now you have it straight from the experts. When you think that practice makes perfect, don't forget another old golf saying – "Drive for show, putt for dough". Purposeful practice and a tidy short game are the real short cuts to golfing success.