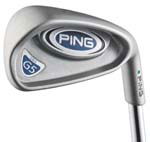 Ping G5 iron
For the first time in its 46-year history Ping is launching a new series of irons, fairway metals, hybrids, and putters simultaneously.
The G5 series of equipment – we announced the G5 driver and offset driver earlier this week – will also include the i5 iron, a mid-sized clubhead with reduced offset.
Announcing the launches, Ping chairman John Solheim says: "We're bringing golfers a series of clubs that represent our commitment to innovation. Each club in the series is engineered to help golfers lower their scores and increase enjoyment of the game. We applied our usual careful analysis of every product and set out to improve the performance of each. We're confident we've succeeded in every case."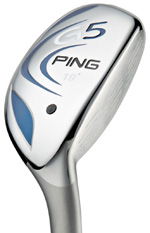 Ping's first hybrid
Ping says that with the G5 brand, a golfer can create a set of clubs to match his or her ability and personal preference - from the G5 driver to the G5i putter range of putters.
"We're in the business of improving the scores of all golfers," added Solheim. "The G5 Series features technology which will benefit every skill level, while the i5 iron can satisfy the needs of golfers looking for a slightly smaller clubhead."
The G5 irons feature a larger cast head design with a wider sole, making the club easier to get the ball airborne. Feel, say Ping, is improved through a larger and thinner tuning port (CTP) positioned closer to the face.
The i5 iron has a mid-size, stainless head with reduced offset and includes all the features of the G5 model. The leading edge and bounce angle are designed for a smoother, more forgiving transition through the turf and from the rough.
Both models are available from 2- to 9-iron and with four loft options in the wedges. Ten colour codes are offered to fit each club and each will cost £80 with a steel shaft or £95 for graphite.
Ping's G5 fairway metals have internal weight pads progressively toward the back of its higher lofted woods for optimal spin, launch and control while a rocker sole is designed to help square the clubface.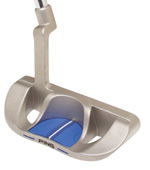 New style G5I B60 putter
The clubs (with lofts from 13 to 27-degrees) will cost £129 for steel shafts and £169 (graphite) from September.
Hybrid clubs have become increasingly popular and Ping's first, in November, will have a steel face and sloped crown. Lofts will be 16,19,22 and 25 degrees and price will be either £130 (steel shaft) or £145 (graphite).
Completing the new range from Ping are eleven G5i putters, with dual durometer inserts and optigraphic alignments. Costs will be from £95-£150.
*Tour Black nickel wedges have been added to the Ping range in 50, 52, 54, 56, 58 and 60-degree options with higher spin rates for extra control around greens. Ten colour codes are offered for custom fitting with steel shafted clubs costing £80 and graphite £95.