Anxious to shake off its traditional image, Ben Sayers is re-inventing itself as a brand to attract 'golfers with attitude.'
For over 130 years, the company has been making golf equipment – indeed TV commentator Alex Hay was once an employee at their Scottish factory – now with a new range of clubs and accessories they are aiming at the young at heart.
The Bideford-based company says it wants to make itself more accessible to a wider and younger audience by attracting 'a new generation of brand-savvy, lifestyle-focussed golfers' and is stepping on the toes of conformity by launching a provocative marketing campaign featuring golfers wearing jeans and trainers!
"We are re-launching the Ben Sayers brand to capitalise on what we feel is a gap in the market," says general manager Joe Mogg, who claims that golf has been guilty of losing its style in the last 20 years.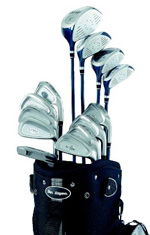 C300 box set
"We believe there's now a real demand for a brand that appeals to fashion-conscious individuals who play golf because it's 'cool'."
"With the M2i," he says ,"we have a club range that has an established market among mid to low handicap players and have invested in new products and radical marketing to appeal to a new, younger audience."
Six new models of club include a junior set and two for women.
The C300 box set is aimed at newcomers to the game, and availability includes driver and 3-, 5- and 7-wood, 4- to 9-iron, pitching and sand wedge, mill-faced putter and trendy bag. Cost will start from around £249.
Aimed at mid to high handicappers, the Powerpact Xtreme range is for mid-to high handicap improvers, with large but stylish heads on the woods and oversize, cavity-back irons, designed for height, length and forgiveness. Prices start from about £159 for a set of irons or £18 per club if you prefer to build a set, club by club.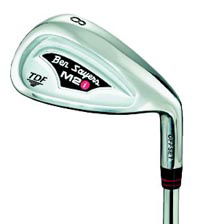 Latest M2I irons
Flagship of the Ben Sayers range are the re-styled M2i TDF irons and woods, for men, women and juniors.
The men's range for right and left-handers features a titanium driver (from £129), three fairway metals, irons from 3- to 9-iron and two wedges (from £249 for nine clubs).
A further addition is the M2i TDF combination club - 20 or 26 degrees utility club.
For further information about Ben Sayers products or your nearest stockist, call 01237 426 704.
What do you think of the new Ben Sayers image for golfers? Will it catch on or do new golfers prefer to conform to the established 'look'? Is there room for attitude on a golf course? Tell us on the forum.