The latest company to acknowledge that mid to high handicap golfers rarely carry the 3- and 4-iron and instead prefer a set to include high-lofted fairway metals, are equipment–makers Olyo.
Many players considering purchasing a set of irons soon discover that the longer clubs are surplus to requirements because they're too difficult to hit consistently well.
While some manufacturers prefer the route of low centre of gravity and wider sweet spots, others, including TaylorMade, Nike and now Olyo, have produced mixed sets of traditional irons and utility fairway metals.
Olyo's 2304 series includes seven peripheral-weighted, cavity back, stainless irons. But instead of 3- and 4-iron, offers as a standard option an 18 and 21-degree utility wood with a generous offset and unrailed flange to encourage the ball to be swept away, similar to 5- or a 7-wood.
Sixteen and 24 degree lofts are also available in range of eight shafts with UST Tour graphite in the utility clubs. Prices range from £299 – right-hand only. Individually utility woods cost £49.99.
Olyo has also remodelled its 2305 series irons with high-grade 17-4 stainless steel for a softer more responsive feel and classic satin and matt finish. The clubs are available in right and left-hand models for £299 (nine shafts options).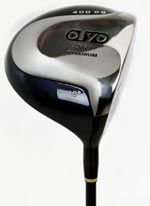 The 2304Ti 400 driver
Also new from Olyo this year are two drivers - the 2605 Ti 380 and the slightly larger-headed 2304 Ti 400.
The Ti380 with its pearl black finish, costs £139 and is aimed at the better player – left and right-handed - with lofts from nine to 12 degrees with a variety of regular or firm shafts. The Ti 400 offers mid-handicappers more forgiveness with its larger deep face head. Available in similar lofts and flexes and costing £129.99.
Complimenting the drivers are Olyo fairway metals from 3- to 11-wood with deep blue and pearl black finish, costing £89.99 each.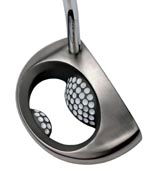 Distinctive P7 putter
The distinctive 2203 P7 putter completes a range of eight 'flat sticks' from Olyo this year, priced at £39.99, while three models of Olyo wedges in a variety of six loft options each, complete the package at £44.99.
For further information call 0870 751 5464.
Have you tried Olyo products? If so submit a user review and you could win a free driver.