King Cobra's new Cobra SZ iron (left) and the Cobbra SZ Senior model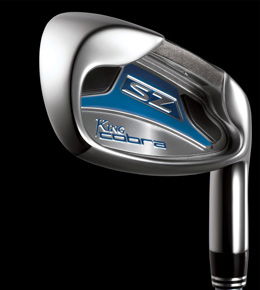 Cobra SZ women's version




There's no better feeling for a golfer than striking the ball flush out of the sweet spot. It happens once or twice a round for most of us, while the lower the handicap, the more often it occurs.

Pros, we're told, tend to be great ball strikers so they're disappointed if they're not flushing most of their full shots.

Cobra, with its new 2009 King Cobra SZ irons, is hoping its advanced technology will make miss-hits for the average golfer a thing of the past and sweetly struck shots more common than a cold at Christmas!

Their 'Sweet Zone' Cobra SZ irons have a sleek, low-profile clubhead design with a shortened hosel, wide sole and heel-toe weighting system to generate accuracy, forgiveness and a higher launch. Coupled with a urethane insert, across the back club face more feel and less vibration is given to each shot.

The standard men's model comprises 5-iron to sand wedge £379 with steel shafts and £449 with Graphite), with the optional extras of 3- and 4-iron, gap and lob wedge. Senior and women's model omen's and senior's cost £449 in graphite only with the extra clubs also available.