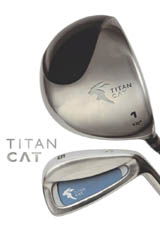 Titan Cat wood and iron
In a determined bid to capture the burgeoning interest in the game by newcomers – and especially children - Cougar Golf has produced four new ranges of clubs and accessories.
Power Cats have been designed for the young golfers enabling children, aged six to 11 years of age, to play with a set just like the grown-up's. The full set includes a dual strap carry bag, an fairway metal (with animal headcover), a putter with a polymer insert face and either three or four irons, depending on the age range. Prices start at £115.
For the adult taking their first tentative steps into golf the Smart Cat boxed set provides all you'll need as a beginner costing £295 with steel shafts (£315 with graphite).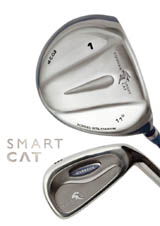 Smart Cat clubs
It includes three alloy metals woods (driver, 3- and 5-wood), nine stainless steel irons (3-iron to sand wedge), zinc putter. Both include a stainless steel trolley, while the men's set features a dual strap bag and the women's set a bag with a single strap.
The Hybrid Cat set from Cougar features two fairway metals and two rescue clubs equivalent to 5- and 7-wood, all with embroidered headcovers. There are eight stainless steel irons with either graphite or steel shafts and a trolley bag with a dual strap.
The men's versions costs £295 (steel shafts in the irons) or £325 (graphite), while the women's, which also includes a single strap bag and an alloy trolley, costs £325 (graphite).
Completing the Cougar family are Titan Cat aimed at the improving mid-handicapper. The set includes a carbon composite/titanium driver and 3-wood, rescue club and nine titanium-faced irons (3-SW). With steel shafts in the irons, the cost is £375, with graphite shafts £395.
Leo Schonk, president of Cougar Golf, says: "As part of the brand's evolution we decided to alter the image of the brand and we're delighted with the developments over the past year and are looking forward to an exciting 2005."
For your nearest stockist of Cougar products, contact the UK distributors, Team Frith, on 01507 354767 or for a newsletter visit Cougar Golf.