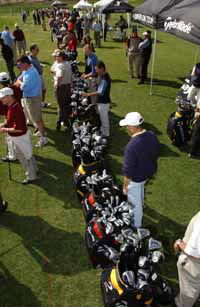 Demo day – and clubs galore
The news that Titleist is embarking on a series of 50 winter demo days around the UK, between November and February, reminds me that these off-season demonstrations are a great way to set your targets for next year and perhaps find the secret to a better game.
It's reckoned that 75 per-cent of the UK and Ireland's active golfers – those who play at least once a month - tend to go into hibernation from November, emerging bleary-eyed when the BBC starts promoting its US Masters coverage from Augusta at the end of March.
But the dedicated golfers among us, still step out in the dark depths of winter to hone our games in the limited light and check out what's new in equipment
So what do you need to know and look for at one of these demo days to help you battle your way through the minefield of equipment jargon and custom fitting systems?
The purchase of new golf equipment can be intimidating, the choices are many and the investment can be substantial.
First you should determine what are your objectives for performance and improvement, and how much money you're prepared to spend to reach your goals. It's complicated by the vast variety of clubs at your disposal.
In the late 1980s and early 1990s when persimmon-headed clubs were still popular, a new line of irons and woods was offered by manufacturers, perhaps every three to five years.
However, the top branded club-makers are now introducing models, two or three times a year.
As well as trying to improve their market share by continually updating their product line, manufacturers must please their shareholders as well as The City and Wall Street. It keeps the company in the spotlight.
With much of this 'new kit' ultimately showing up at warehouse retailers, it makes the choices difficult. Do you splash out for the biggest and best, only to discover a few months later it has been superceded?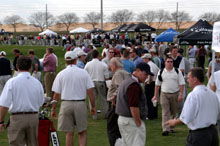 The ultimate chance to try clubs
Here's a few tips to remember
Be honest about your abilityLook at yourself in the mirror, assess your capabilities and be honest about how good you are. Be realistic about your goals. Aim for a 10-percent improvement and high-tec clubs can certainly help shave three or four shots off your game. But from 20 handicap to five? It ain't going to happen.
Golfers tend to overstate their ability when searching for new clubs which can lead to buying a driver with too little loft, shafts that are too stiff and iron heads that only the best amateurs and the pros can use. Opt for more loft and shafts with more flex.
Try before you buy
Don't buy clubs without hitting them first. That's where demo days are so vital – a PGA professional is usually on hand to help find a club and shaft to suit your swing and physique.
It's also good to experiment with demo clubs on the course. Our swings can change under pressure, and remember on the range there's no fear of the mis-hit.
Buy a better game
Remember you can buy more height and spin with the latest technology and this can often be found at demo days. Launch monitors will measure a ball's launch angle, ball speed and spin from the clubface.
Slower swing speeds require higher launch angles and more spin and lofted drivers and balls with higher spin rate will provide it. If there isn't a launch monitor on site, ask the sales team to put you in touch with the manufacturers to find your nearest custom-fit centre.
Experiment with high lofted woods
Experiment with high lofted woods instead of long irons. A demo day or custom-fitting, will also reveal that you don't have to have 3- iron to 9-iron in your set anymore and trying demonstration clubs will help you consider options of 7- and even 9-wood fairway metals to replace the 2-, 3-, 4- or 5- iron.
Don't be embarrassed because these might be perceived as women's or seniors clubs – the object of the game is to reduce your scores. The Rules merely state you can only carry 14 clubs.
Speciality wedges can also be tried at a demo. Today's pitching wedge has 43 to 48 degrees of loft, the equivalent of an 8- or 9-iron a generation ago. This has created a wide gap between the PW and a traditional 56-degree sand wedge, hence the introduction of the versatile 'gap' wedge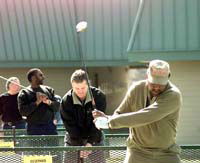 Try before you buy
Looks aren't everything – but it helps
No matter how much technology you buy in your next set of irons, always give consideration to how a club looks and fits your eye. It must give off positive vibrations as you address the ball.
Too much offset doesn't suit some golfers, nor a top line that's too thin. Feel in the grip is also important.
With a driver, the clubhead at address must inspire confidence.
How much is too much?
In a competitive market with mostly reputable retail outlets and pro shops an honest and fair attempt will be made to provide the best service and price.
But do your research with comparison shopping. Check out web sites and publications to identify the latest prices and potential bargains and get to know the difference between the SRP or RRP – suggested or (recommended) retail price -- and the street price. The street price is what a retailer is actually charging -- anywhere from 10 to 40 per-cent under the S(R)RP depending on the market, the demand and the product.
Titleist demo days
At the Titleist demo days there will be a comprehensive range of clubs available with Titleist staff on hand to offer tips and club-fitting advice.
They expect great deal interest in the new Titleist 503H utility iron as well as the 704 and 804 forged stainless irons launched earlier this year. The Titanium 983 driver with its K and E variants will also be available for trial alongside the 983 driver 980F fairway metals.
Each demo day will also carry a full selection of the 'scoring clubs' and the Vokey Design gap, sand and lob wedges used to such great effect by Ernie Els, Davis Love and Adam Scott.
There will be approximately 50 days running at from October through to February. All days will be held at Driving Ranges to allow for Winter weather conditions. A comprehensive list of locations and dates is now available on the Titleist website www.titleist.co.uk
You can also test the TaylorMade R500, r7 Quad and r5 series drivers, and rac OS irons at TaylorMade demo days, while G2 irons, driver, fairway metals and wedges can be handle at Ping demonstrations .
For your nearest Callaway demo check out www.CallawayGolf.com.