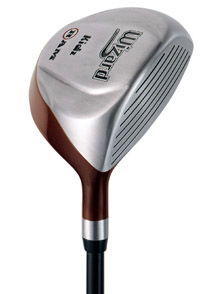 Wizard Kidz wood




If you have a child or grandchild seriously considering taking up golf, Ram is introducing a starter packs for three to nine year-olds that won't break the bank and could set them off on a new sporting career path.

Everyone with a sporting pedigree wants their off spring to follow in their footsteps – even to achieve what they couldn't themselves - and along with a number of other club makers Ram has extended its Wizard range to cater for the golf stars of the future.

Two new Wizard Kidz packs are designed to ensure that a child's initial experience of the game is both positive and rewarding. Indeed barely out of pampas, Tiger Woods, Sergio Garcia and Justin Rose were all given cut down clubs to try as toddlers.

The Wizard packs – for three to six-year-olds and for children aged six to nine, consist of a fairway wood, an iron and putter. Ram engineers, appreciated a child's slight frame, slow swing speed and lack of power, in developing forgiving clubs which can get the ball airborne and instill confidence.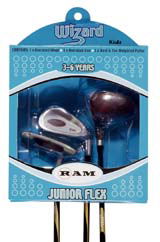 Wizard Kidz set
The clubheads are built with large, forgiving sweetspots and fitted with flexible lightweight graphite shafts. A traditional-shaped graphite putter completes the set for £29.99.
'We recognised that many parents and grandparents want to give children the opportunity to try out golf but don't necessarily want to splash out on a full junior set that could be redundant if the child didn't take to it," says Graeme Stevens, Ram's golf services director.
"Our new inexpensive Wizard Kidz packs offer the perfect introduction to the game and the enjoyment and rewards that it brings.'
The new Wizard Kidz Packs will be available in leading golf stores and pro shops from the end of October.
You can find out more information by visiting www.ramgolf.co.uk. For details of your nearest stockist call 01895 813613