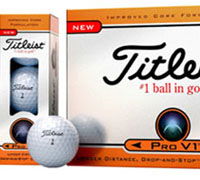 Titleist Pro VI – in search of the holy grail
One of the fastest growing areas of golf is club fitting for irons and drivers, ensuring that every golfer from raw beginner to tournament professional has the equipment to fit their particular swing and ability.
Now, such have been the changes in ball construction in recent years, club fitters are also being encouraged to suggest a ball to suit each golfer's distinctive swing, equipment and performance characteristics.
In the light of the R&A's and US Golf Association's recent comments exploding some of the myths of golf ball performance, we asked John Peal, director of marketing for Acushnet in St Ives, Cambridgeshire, which owns the leading brands of Titleist, Cobra and FootJoy, for his valued observations.
The Titleist Pro V1 ball and Titleist Vokey 200 Series wedges were voted No.1 in their category in the recent Golfmagic awards.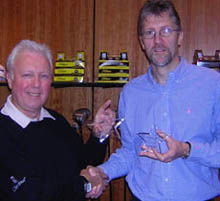 John Peal (right) receives his Golfmagic awards from editor Bob Warters
What's your interpretation of the latest joint statement from the R&A and USGA about the myths surrounding golf ball performance?
Without being prompted, the USGA and R&A felt they should straighten out these myths particularly the one that there had been rapid distance advances over the last ten years. This came as no surprise to us because the prevailing ball construction went from a wound ball to a solid ball - and a solid ball is longer than wound.
The solid Pinnacle ball of 20 years ago would have given Tour pros the same distance they are getting from the Pro V1 today but they couldn't get the control they wanted from a Pinnacle, which is why they stayed with a wound balata.
What the authorities have noticed is that the rate of distance growth has slowed very considerably and indeed in the last three years has flattened out. The feeling is that the likelihood of an increase in distance from now on is fairly minimal.
And, of course, golf ball construction has always been fairly regulated so their feeling is the future advances in distances are expected to be small – about one yard per year.
Another myth was that courses were being outgunned by the big hitters on Tour. What's Titleist's opinion?
Some of these wild myths being bandied around that the modern golf balls favour the bigger hitters is 100 per-cent wrong.
The longer hitters, in fact, get a disproportionately lower benefit because at higher swing speeds (e.g.120mph) and ball speeds (180mph) you get more effect from drag on the ball in flight, than at lower speeds. In relation to the supposed advantage of longer hitters, the opposite is true.
Overall, we feel that there's now more balance in the debate about golf balls and that it is being voluntarily put out by the governing bodies. We feel it's heartening to see that.
Can you explain, in layman's terms, what you are trying to achieve with your latest Titleist balls?
In terms of golf ball construction, what we're all trying to do is develop a golf ball that has high initial velocity because that's where length primarily comes from. We also want low spin on the long shots. However, the outer cover is designed in such a way that short shots, half shots, wedge shots will give a measure of greenside control.
We want that balance of high initial velocity from the core for the driver, fairway metals and long irons from the tee and then have the cover influence the shots played with a glancing blow around the green. If we can get distance from the core and control from a responsive, softer cover it's the ultimate combination – the holy grail.
The Pro V1 and Pro V1x have done well because they have that balance and that's what we're all trying to optimise.
Flight and trajectory have become a key focus in recent years.
Flight and trajectory is something that's important to all manufacturers and now it's not just with golf balls it's from irons and drivers as well. And the fact that everyone is moving over to being fitted means they realise that the presumption that all golfers are the same makes no sense at all. We can no longer imagine that a stock set of irons or driver or even one ball is going to be right for everyone.
We need fitting in every part of the game and that applies to shafts, driver lofts, the weight of a driver and golf balls. You wouldn't expect one shirt to fit everyone – why should one driver fit everyone?
What about being fitted for the right ball. Why do we need it?
There's definitely a role for ball-fitting and we encourage our retail accounts that do the fitting for clubs to give some input as to which golf ball is right for each individual. As I said before, we don't all swing it the same.
We could both be eight handicap, for instance, and you hit it straight but not so far and I kill it but I'm a bit wild. So we both get there in a different way but why should we expect the same golf ball to be right for both of us?
A few years back there was talk by the US Masters committee of gearing the ball down so everyone used the same ball and Augusta National didn't need to be extended for the bigger hitters. What happened to that idea?
The USGA and R&A's recent statement is a follow up to the one they published a year ago when they requested sample balls which went 15-25 yards shorter.
However, they wanted to clarify that there was some disinformation out there. We're still awaiting the outcome long term but the indications from them are that they see distance gains diminishing and plateau-ing out. And that's significant.
As for the Masters idea, Titleist has always felt that a 'one ball for all' would not be a good route forward because all golfers hit it differently. And whatever design is selected it might favour one golfer over another and we don't think that's right. It might favour a Corey Pavin and disadvantage Ernie Els or the other way round.
The restricted COR (Coefficient of Restitution) – the trampoline effect in the face - is due to be introduced in 2008, when non-conforming drivers will be outlawed. Surely that can't be monitored and checked at club level?
Absolutely. The R&A will have the responsibility of enforcing it but as with much of golf, it will be self-policing. There has been a fair degree of publicity about it for many years now and the vast majority of club golfers are perfectly aware that January 1, 2008 is the date when the old 0.86 COR drivers become non-conforming and illegal in competition. By then everyone should have switched if they want to be compliant.
It's going to be down to the integrity of individuals and peer pressure. Club secretaries and professionals may be able the exert some pressure but most manufacturers have not been selling high COR drivers for a couple of years now and even when we were we had warning stickers on them making it very clear that these drivers become non-conforming in 2008.
Can you see a situation, as with the recent crack down in knife culture, that there will be and amnesty for non-conforming drivers? Is there a possibility that bins will be placed on the first tee in which to dump your non-conforming driver?
Not quite but I feel an amnesty is already under way. We talk to club golfers all the time and in anticipation of 2008 many have already switched. Our experience is that the replacement cycle for a driver is two-and-a-half to three years. And I think you would find it difficult to even buy a high COR driver now.
That process is well advanced. There may be one or two still available or in play but that will eradicate itself.