We've all heard of customising your own equipment to your own specifications and even your clothing with a club logo. Now FootJoy is offering the opportunity for golfers to personalise their own golf shoes.
Some Tour players started the craze with a national flag or emblem but now FootJoy, the market leading golf shoe brand, has launched an innovative new service that offers the original waterproof DryJoys golf shoe, in a variety of colourful options.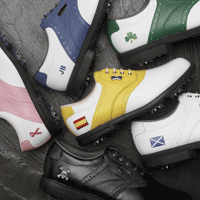 MyJoys with saddle and logo options
And Golfmagic has been given an exclusive online opportunity to give away FIVE pairs of customised shoes.
You pick the colours and sizes you want, then add a logo, a flag or your, name, initials or even nickname and FootJoy will do the rest.
Golfers can log on to www.footjoy.co.uk/myjoys and use the FootJoy website to create and view the unique MyJoys designs. Customers choose the white or black base colour for men or women, then simply select one of 20 saddle colours from the MyJoys palette.
You can have up six characters embroidered on each shoe in one of the 20 colours. Alternatively there's a selection of logos or national emblems. You can even have a logo on one shoe and text on the other.
For example a Golfmagic shoe could have a white base, Real Red saddle and 'Magic' in black on each heel.
FootJoy also has an option for customers with uneven feet sizes – and that means most of us. With MyJoys, you can specify the size and width requirements of each shoe to produce the ultimate pair of golf shoes for comfort and fit.
Once your design is complete it can be printed off and taken or emailed to your local FootJoy stockist who will handle the order on your behalf. The whole process takes just three weeks to complete. Men's MyJoys have an recommended price of £130 per pair, while women's MyJoys are £115. For your nearest stockist call 01480 301114 or visit www.footjoy.co.uk.
What a great and unusual Christmas gift option for that special golfer in your family with the competition a terrific bonus.