Mizuno has revealed that its much-anticipated forged MP-60 Cut Muscle irons are now available. The makers say the MP-60 combines an 'unobtrusive half cavity' to this established technology (already found in the MP-32) which creates more forgiveness without sacrificing shot-making or control.
The MP-60 is one of a handful of new products Mizuno is releasing this month and in October alongside the MX-500 large-headed driver, F-50 graphite crown fairway metals, MX-900 hybrids and TAVA 11-club set for women, which includes driver, high lofted fairway metals and irons.
In January Mizuno will be make its latest Draino putters available.
A key feature of the classic-looking MP-60s is a larger, carefully adjusted sweet spot, compared to the MP-32, which enables the higher handicap golfer to fly their irons higher, yet with more penetration.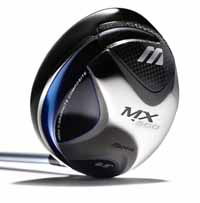 MX-500 driver
Says Andy Kikidas, European Tour manager for Mizuno commented: "It's been noticeable in the last few years that its not just professionals or low handicap golfers that perform better with a classic looking iron. Blades and smaller cavities are easier to play than ever thanks to the advancement of technologies like Cut Muscle.
"Mid handicap golfers who play on tightly cut fairways, or just prefer a neater top edge behind the ball will often perform better with classic-looking irons. And the increasing use of hybrids instead of long irons has allowed more golfers to play sleeker mid and short irons, where the loft creates all the forgiveness that they need.
He adds: "The MP-60 takes everything that is good about the MP-32 and makes it all just a little easier to use."
The clubs are available with steel shafts (3-iron to pitching wedge), in left and right-hand models for £599.
Recommended price of the MX-500 driver, with its 460cc head and graphite shaft is £199. It has been developed, say Mizuno, for golfers who tend to lose control of big-headed drivers.
"While they inspire confidence at address, 460cc driver heads can be difficult to square at producing pushed or sliced tee shots," Mizuno's Masao Nagai.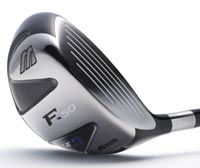 F-50 fairway metal
"The MX-500's graphite toe insert shifts the balance of weight closer to the shaft to help square the clubface for a solid impact."
The result, he says is a long, high ball flight and a driver, which conforms to regulations, with lofts from 8.5 to 12.5 degrees. Left-handed models have lofts from 9.5 to 11.5.
The F-50 fairway metals claim to enhance the playability and versatility of their MP-001 predecessors with a re-engineered 'rocker-sole' to 'enable balls to soar from the tightest turf.'
Features include a larger 3-wood so players aren't so intimidated by the difference in size from the driver. Models range from a strong 3-wood to a 7-wood costing £109 for steel shafts and £139 for graphite. For left-handers only 3- and 5-wood are available.
Mizuno developed the MX-900 set in response to the tendency to combine irons with utility clubs. Long to mid irons (3-7) are have hollow forged heads, while the shorter irons (8-PW) are one-piece forged from softer, mild carbon steel and which ideally combine with Mizuno's MP series wedges. Recommended price for steel shafts (3-PW) is £649 or £749 for graphite. A set for women (5-PW) with graphite shafts is £599.
Alternatively women may wish to invest in Mizuno's new TAVA clubs aimed at those with slower swings and with a wider gap between lofts – upto five degrees - of clubs in a set.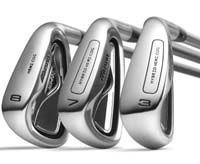 MX-900 irons – part of mixed set with utility clubs
The 11-clubs in the range include a 14-degree driver (£139), a choice of four fairway metals (£89 each), two utility clubs (£89) and six irons (6-PW) for £249.
For further information and your nearest stockist visit www.mizunoeurope.com.
*Tell us about the equipment in your bag - clubs, shoes, balls waterproofs – by submitting a user review during September. You could win one of the packs of a dozen Srixon Soft-Feel balls we're giving away every month.
And if you've got equipment to buy or sell second hand you can do that too, in our popular classified section.