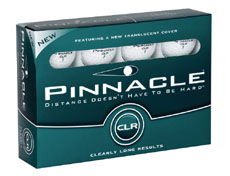 Pinnacle CLR packaging
Pinnacle has given its brand a facelift with the introduction of the Pinnacle CLR ball, available in 'transluscent white' or 'pearlescent pink'.
It's a move by the makers of the leading distance ball to expand its range of golfers to the burgeoning women and children's market where colours of distinction are proving more attractive.
Callaway has already introduced its HX Pearl ball and Srixon its Lady Ball, following the winter launch of Maxfli Noodle Ice's pink, tangerine and lime range.
Pinnacle is hoping the update of its range from the flagship Pinnacle Exception to the best-selling Pinnacle Gold will strike a chord with 21st century golfers.
The new CLR ('Clearly Long Results') ball, says Pinnacle, has been designed to dispel the brand's 'hard feel' reputation. Makers claim it has an 'ultra soft compression, for feel and control around the green, coupled with a dimple pattern to deliver exceptional distance from the tee and with long irons.' It's available in packs of a dozen from £18.80.