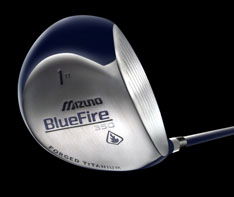 Blue Fire 350 driver.
Hot on the heels of its launch of the much-anticipated MP-33 irons comes a new driver and wedge from Mizuno.
The BlueFire 350cc driver claims to be a high-flying, easy-to-use version of the original BlueFire – aimed specifically at the amateur golfer. It's hot face, widened for use by handicap club golfers, is banned in pro competition in Europe and the US.
Says Mizuno's research chief Masao Nagai: "Other drivers may have COR areas (the degree of trampoline effect) of 0.85 which exceed the regulations (0.83 maximum) at their 'hottest' point. But that point is very small in relation to the clubhead. Our technology means that the ball will make contact with the high COR area more regularly giving inconsistent amateurs more distance."
Available in 9, 10 and 11 degree lofts (men's right hand only) and an 11-degree women's version, the BlueFire 350 has an Exsar Platinum graphite shaft and costs £299.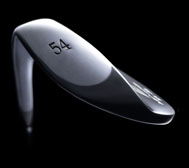 Black OX wedge from Mizuno.
Mizuno's MP Series RAW Black Ox wedges are set to rival the Cleveland and Titleist Vokey wedges currently dominating the bags of leading players on Tour.
The range – from 50 to 60-degree lofts – features its latest Grain Flow Forging with a thin layer of black oxide designed to wear away to create biting spin control and a soft feel.
Available in men's right-hand versions only, there's a choice of Dynamic Golf R300 or S300 shafts. Recommended price is £100.