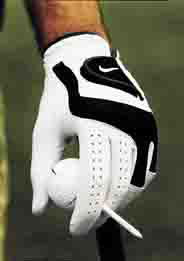 Do you wear a glove for golf?
I'm not totally convinced by the golf glove – essential equipment or a fashion accessory?
Why do some professional players like Fred Couples and Lee Janzen declare that they never have worn a glove and never will, while others discard it for the putting green yet wear it for every other shot in their bag including those that need similar touch and feel around the green.
Perhaps the glove's only for posing purposes, cheekily folded into the back pocket with the fingers exposed because they've seen it done by the stars as a kid and can't shake the habit.
I only bring up the subject because this week I learned of some of the cheapest and some of most expensive golf gloves I've come across in reporting the game for over 30 years.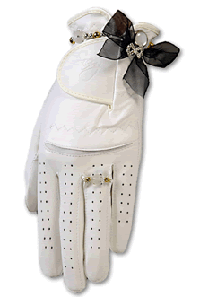 Sassy Swings' Sophie glove – complete with bracelet and bow




Hot on the heels of Masters Golf announcing they were launching an RX7 glove for under a fiver, came news that Sassy Swings run by two women from Missouri has introduced a leather glove with a built in gold and silver bracelet that also acts as a stroke counter.

I kid you not! And the price is enough to make you choke over a chip. It's $49 – equivalent to around £30.

The glove which was launched at the PGA Merchandise Show in January and now sells in five countries claims to target the woman golfer who has almost everything.

Tina Siebenman, owner of Sassy Swings, says trends in women's golfwear are changing around the world.

"Women don't want to wear mannish-looking clothing on the golf course anymore. They want to look stylish and luxurious and this is just the kind of gift a guy should by if he wants to impress his wife, girlfriend, daughter or whomever."

Quite!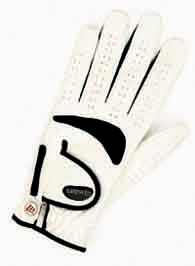 Cabretta glove by Masters Golf costs £7.99




As for Masters Golf, they'll stick to the tried and tested format of hi-tech Cabretta leather or hard-wearing all-weather gloves for men at £7.99 and £4.99 respectively.

The women's version is a mere £9.99 and includes a ball marker and comes in a range of colours including sky blue, sand and cognac.

Tell us on the forum about the glove you wear - is it a fashion item or essentiual to your game. What colour, brand and material do you prefer?

*Tell us about the clubs in your bag - as well as the balls, shoes, waterproofs – by submitting a user review. Every month we give great prizes away.